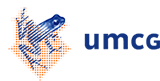 Lude Franke, PhD
Head of Research and Education section, Associate professor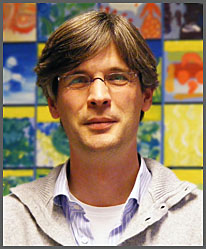 Short biography
Lude Franke (lude@ludesign.nl) is a statistical geneticist, working on analyzing data on the genetics of complex and autoimmune diseases (e.g. celiac disease). He was awarded an ERC Starting grant (Nov. 2014), NWO VIDI grant (May 2014), NWO VENI grant (2009) and a Horizon Grant (2009) to work on identifying molecular effects due to disease-causing mutations. He is also a graphic designer (see his PhD thesis design). This chance combination of skills can sometimes make life as a genetics researcher a bit easier: if you can explain your research visually, more people can understand what you are doing. See a short film explaning his work on DNA (in Dutch) here and an interview with Lude about his work (i n Dutch) here.
Students We are always looking for bright and enthusiastic students. For detailed information on our ongoing projects, please visit the Systems Genetics and the Franke lab website.
News
Dec 2016: Appointed member of The Young Academy, KNAW, more, see video interview (with English subtitles)
Dec 2015: Per 1st January 2016, Lude Franke will take up the position of Head of Research and Education in the Dept of Genetics, UMCG
Jan 2015: Awarded the UMCG research prize (€100,000)
Nov 2014: ERC Starting grant (€1.5m) awarded for project "New 'big data' approach to identify environmental risk factors for disease" more
May 2014: VIDI grant (€800k) awarded for proposal entitled "A novel approach to understanding how DNA variants cause disease"
For more information about his current research see the Franke lab website.
Curriculum vitae: Full CV (Oct 2014, including collaborators, grants and prizes, list of publications)
Study: MSc in Medical Biology, Utrecht University, 2002
PhD thesis: Genome-wide approaches towards identification of susceptibility genes in complex diseases. Awarded cum laude, Utrecht University, 2008
Selected papers See all Lude Franke's papers in Google Scholar
Refined mapping of autoimmune disease associated genetic variants with gene expression suggests an important role for non-coding RNAs. I Ricaño-Ponce, DV Zhernakova, P Deelen, O Luo, X Li, A Isaacs, ... Journal of autoimmunity 2016, 68, 62-74
Population-based metagenomics analysis reveals markers for gut microbiome composition and diversity. A Zhernakova, A Kurilshikov, MJ Bonder, EF Tigchelaar, M Schirmer, ... Science 2016, 352 (6285), 565-569
GWAS for executive function and processing speed suggests involvement of the CADM2 gene. CA Ibrahim-Verbaas, J Bressler, S Debette, M Schuur, AV Smith, JC Bis, ... Molecular psychiatry 2016, 21 (2), 189-197
Gene expression analysis identifies global gene dosage sensitivity in cancer. Fehrmann RS, Karjalainen JM, Krajewska M, Westra HJ, Maloney D, Simeonov A, Pers TH, Hirschhorn JN, Jansen RC, Schultes EA, van Haagen HH, de Vries EG, Te Meerman GJ, Wijmenga C, van Vugt MA, Franke L. Nature Genetics 2015 Press release (in English), Persbericht (in Dutch)
Proton pump inhibitors affect the gut microbiome. F Imhann, MJ Bonder, AV Vila, J Fu, Z Mujagic, L Vork, EF Tigchelaar, ... Gut 2015 gutjnl-2015-310376
Biological insights from 108 schizophrenia-associated genetic loci. S Ripke, BM Neale, A Corvin, JTR Walters, KH Farh, PA Holmans, P Lee, ... Nature 2014, 511 (7510), 421
Genetics of rheumatoid arthritis contributes to biology and drug discovery. Y Okada, D Wu, G Trynka, T Raj, C Terao, K Ikari, Y Kochi, K Ohmura, ... Nature 2014, 506 (7488), 376-381
Systematic identification of trans eQTLs as putative drivers of known disease associations. Westra HJ, Peters MJ, Esko T, Yaghootkar H, Schurmann C, Kettunen J, Christiansen MW, Fairfax BP, Schramm K, Powell JE, Zhernakova A, Zhernakova DV, Veldink JH, Van den Berg LH, Karjalainen J, Withoff S, ... Franke L. Systematic identification of trans eQTLs as putative drivers of known disease associations. Nature Genetics 2013, Persbericht (in Dutch)
Human disease-associated genetic variation impacts large intergenic non-coding RNA expression. Kumar V, Westra HJ, Karjalainen J, Zhernakova DV, Esko T, Hrdlickova B, Almeida R, Zhernakova A, Reinmaa E, Võsa U, Hofker MH, Fehrmann RS, Fu J, Withoff S, Metspalu A, Franke L, Wijmenga C. PLoS Genetics 2013
Unraveling the regulatory mechanisms underlying tissue-dependent genetic variation of gene expression. Fu J, Wolfs MG, Deelen P, Westra HJ, Fehrmann RS, Te Meerman GJ, Buurman WA, Rensen SS, Groen HJ, Weersma RK, van den Berg LH, Veldink J, Ophoff RA, Snieder H, van Heel D, Jansen RC, Hofker MH, Wijmenga C, Franke L. PLoS Genetics 2012
Trans-eQTLs reveal that independent genetic variants associated with a complex phenotype converge on intermediate genes, with a major role for the HLA. Fehrmann RS, Jansen RC, Veldink JH, Westra HJ, Arends D, Bonder MJ, Fu J, Deelen P, Groen HJ, Smolonska A, Weersma RK, Hofstra RM, Buurman WA, Rensen S, Wolfs MG, Platteel M, Zhernakova A, Elbers CC, Festen EM, Trynka G, Hofker MH, Saris CG, Ophoff RA, van den Berg LH, van Heel DA, Wijmenga C, Te Meerman GJ, Franke L. PLoS Genetics 2011
MixupMapper: correcting sample mix-ups in genome-wide datasets increases power to detect small genetic effects. Westra HJ, Jansen RC, Fehrmann RS, te Meerman GJ, van Heel D, Wijmenga C, Franke L. Bioinformatics 2011
Multiple common variants for celiac disease influencing immune gene expression. Dubois PC, Trynka G, Franke L, Hunt KA, Romanos J, Curtotti A, Zhernakova A, ... Wijmenga C, van Heel DA. Nature Genetics 2010
| | |
| --- | --- |
| Laatst gewijzigd: | 01 juni 2017 11:38 |