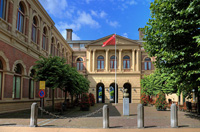 The University of Groningen has once again made it into a Top 100: this time in the prominent QS World University Ranking, in which the University climbed from place 109 to 97. Groningen made the biggest leap of all Dutch universities. 'We are very happy with this result', said Sibrand Poppema, President of the Board of the University. 'It shows that the achievements of our scientists and our reputation are well regarded worldwide. This Top 100 ranking is a very important tool in recruiting international students and researchers, and it will also provide new opportunities for fundraising for research.'
The University of Groningen recently also made it into the Top 100 of the Times Higher Education and ARWU (Shanghai) ranking lists, and is now in the Top 100 of the three most important ranking lists. Only a very selective group of universities world-wide can boast this status – and Groningen is now one of them.
A total of six Dutch universities are currently in the QS Top 100.The world-wide ranking list of best universities is headed by the Massachusetts Institute of Technology and Harvard University in the US and the University of Cambridge in the UK.
| | |
| --- | --- |
| Last modified: | April 08, 2015 17:03 |
More news
May 23, 2016

Discover the unknown during the Night of Art & Science

For one night, Saturday 4 June, Groningen will once again be the capital of Art and Science on during the Night of Art & Science festival. The University of Groningen is well represented at The Night, with an extensive academic programme.

May 12, 2016

Major Vici grant for Marco Fraaije

NWO awards a Vici grant to Professor Marco Fraaije after an administrative reconsideration. The grant has been awarded for the project 'Vitamins for proteins: equipping enzymes with new cofactors' which only just missed the selection in 2012.

May 12, 2016

Even in the long term, 'light' does not make you slimmer

Light versions of sweets, soft drinks or crisps encourage people to eat more of these low-calorie products in the long term. They do not further the goal of reducing obesity in the population. These are the results of a study by a group of researchers...