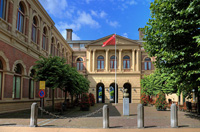 The University of Groningen has once again made it into a Top 100: this time in the prominent QS World University Ranking, in which the University climbed from place 109 to 97. Groningen made the biggest leap of all Dutch universities. 'We are very happy with this result', said Sibrand Poppema, President of the Board of the University. 'It shows that the achievements of our scientists and our reputation are well regarded worldwide. This Top 100 ranking is a very important tool in recruiting international students and researchers, and it will also provide new opportunities for fundraising for research.'
The University of Groningen recently also made it into the Top 100 of the Times Higher Education and ARWU (Shanghai) ranking lists, and is now in the Top 100 of the three most important ranking lists. Only a very selective group of universities world-wide can boast this status – and Groningen is now one of them.
A total of six Dutch universities are currently in the QS Top 100.The world-wide ranking list of best universities is headed by the Massachusetts Institute of Technology and Harvard University in the US and the University of Cambridge in the UK.
| | |
| --- | --- |
| Last modified: | April 08, 2015 17:03 |
More news
January 28, 2016

Niels Taatgen elected Lecturer of the Year

Prof. Niels Taatgen has been elected University of Groningen Lecturer of the Year 2015. The professor of Cognitive Modelling at the Faculty of Mathematics and Natural Sciences was awarded the Jury Prize on Education Day. Prof. Oscar Couwenberg, chair...

January 27, 2016

University of Groningen researcher Jeanine Olsen publishes seagrass genome in Nature

An international consortium of 35 labs led by University of Groningen Professor of Marine Biology Jeanine Olsen published the genome of the seagrass Zostera marina in the scientific journal Nature on January 27th. Seagrasses are the only flowering...

January 25, 2016

GreenMetric Ranking: RUG duurzaamste universiteit van Nederland

De RUG staat in de afgelopen weekend gepubliceerde GreenMetric Ranking op de twaalfde plaats. De RUG steeg 36 plaatsen ten opzichte van vorig jaar en is daarmee in deze ranglijst nu de duurzaamste universiteit van Nederland. De University of Nottingham...