September 10, 2013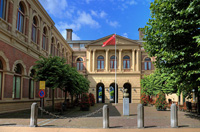 The University of Groningen has once again made it into a Top 100: this time in the prominent QS World University Ranking, in which the University climbed from place 109 to 97. Groningen made the biggest leap of all Dutch universities. 'We are very happy with this result', said Sibrand Poppema, President of the Board of the University. 'It shows that the achievements of our scientists and our reputation are well regarded worldwide. This Top 100 ranking is a very important tool in recruiting international students and researchers, and it will also provide new opportunities for fundraising for research.'
The University of Groningen recently also made it into the Top 100 of the Times Higher Education and ARWU (Shanghai) ranking lists, and is now in the Top 100 of the three most important ranking lists. Only a very selective group of universities world-wide can boast this status – and Groningen is now one of them.
A total of six Dutch universities are currently in the QS Top 100.The world-wide ranking list of best universities is headed by the Massachusetts Institute of Technology and Harvard University in the US and the University of Cambridge in the UK.
| | |
| --- | --- |
| Last modified: | April 08, 2015 17:03 |
More news
September 03, 2015

Launch of the feasibility study 'Measuring and Comparing Achievements of Learning Outcomes in Higher Education in Europe' (CALOHEE)

A new EU funded project, called CALOHEE, will develop the infrastructure that will eventually make it possible to test bachelor and master students' performance Europe-wide across a range of fields in a way that satisfies the needs of the various stakeholders...

September 02, 2015

Holland Scholarships awarded to incoming and outgoing students

Last Thursday, August 27, the Holland Scholarships were awarded, by the President of the University of Groningen prof. dr. Sibrand Poppema. In total, 10 international students who are starting with their study at the University of Groningen and 31...

September 02, 2015

African rice farmers suffer hunger because of Dutch dairy industry

Black-tailed godwits migrating from the Netherlands back to Africa after the breeding season are arriving there increasingly early. This causes huge problems for African rice farmers. Black-tailed godwits used to return in August, but as a result of...