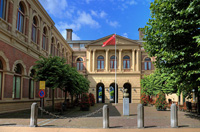 The University of Groningen has once again made it into a Top 100: this time in the prominent QS World University Ranking, in which the University climbed from place 109 to 97. Groningen made the biggest leap of all Dutch universities. 'We are very happy with this result', said Sibrand Poppema, President of the Board of the University. 'It shows that the achievements of our scientists and our reputation are well regarded worldwide. This Top 100 ranking is a very important tool in recruiting international students and researchers, and it will also provide new opportunities for fundraising for research.'
The University of Groningen recently also made it into the Top 100 of the Times Higher Education and ARWU (Shanghai) ranking lists, and is now in the Top 100 of the three most important ranking lists. Only a very selective group of universities world-wide can boast this status – and Groningen is now one of them.
A total of six Dutch universities are currently in the QS Top 100.The world-wide ranking list of best universities is headed by the Massachusetts Institute of Technology and Harvard University in the US and the University of Cambridge in the UK.
| | |
| --- | --- |
| Last modified: | April 08, 2015 17:03 |
More news
September 22, 2016

UG in 80 th place on THE ranking list

The University of Groningen (UG) has dropped six places on the Times Higher Education ranking list and is now in 80th place.Last year, the UG climbed from 117th to 74th place.

September 12, 2016

UG amends BSA regulations

The University of Groningen has amended the BSA regulations. The requirement that students gain their propaedeutic certificate by the end of their second year has been withdrawn definitively.

September 07, 2016

Over to the top women researchers

Tuesday 6 September 22 top women researchers presented during a festive gathering their plans for the future at the University of Groningen. All 22 have been appointed to the University as Rosalind Franklin Fellows.