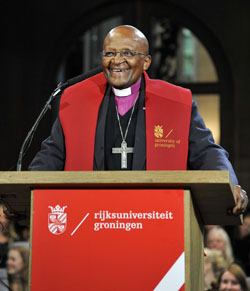 'The capacity to forgive helps people surpass themselves'. That is the key message of the speech given by Archbishop Desmond Tutu on Monday 24 September 2012, when accepting an honorary doctorate from the University of Groningen. The archbishop was awarded the honorary doctorate at the suggestion of the Faculty of Theology and Religious Studies for his outstanding achievements as chair of the Truth and Reconciliation Commission and his significant social contributions in the field of healthcare.
Tutu, a jovial man, said it was a huge honour to be awarded the highest university distinction. He also paid tribute to all the other members of the Truth and Reconciliation Commission: 'I am here in their name. I was simply the captain of a magnificent team.' With a personal speech about the function of forgiveness, including reminiscences from the turbulent history of South Africa, the Archbishop spoke to a packed, silent Martinikerk. Those who forgive surpass themselves, according to Tutu, who used the words 'Fly, eagle, fly!' to call on mankind to exercise forgiveness and transform itself from a chicken into an eagle.
Laudatio
Honorary supervisor Geurt-Henk van Kooten, Dean of the Faculty of Theology and Religious Studies, spoke in his laudatio of the major contribution made by Tutu to the peaceful transition to a free South Africa, without the apartheid regime. In the same context, he also referred to the honorary doctorate awarded by the University of Groningen in 1989 to the South African theologian and anti-apartheid activist Frank Chikane. Van Kooten called the Truth and Reconciliation Commission and Tutu's contribution to it a shining example for other countries wrestling with internal conflict and presented Tutu's call for social harmony, and the way it permeates his ideas and work, as a worthy definition and elaboration of the concept of sustainable society, one of the University's spearheads.
Rector Magnificus Prof. Elmer Sterken referred in his speech to the special timing of the presentation – previously the University of Groningen has only awarded honorary doctorates when celebrating a lustrum. Sterken also praised Desmond Tutu's impressive track record.
At the end of the ceremony, as a surprise, students, alumni and staff of the University sang the South African national anthem, including Nkose sikelel' iAfrika, which was the ANC anthem during apartheid.
See also: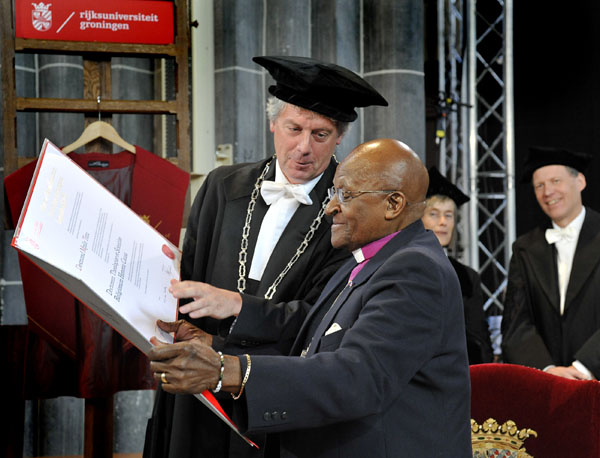 | | |
| --- | --- |
| Last modified: | 04 July 2014 9.33 p.m. |