Bachelor - full-time
Physics
Contact
If you want to know more about the programme Physics, please contact:
Visit us!
Event
Description

Een Dag Student (Technische) Natuurkunde

February 12, 2015 09:30 - 16:30
Nijenborgh 4

Open Dag

Welke studie sluit het best aan bij jouw interesses en toekomstplannen? In welke stad zie je jezelf wel minstens vier jaar wonen? Welke masteropleidingen kun je gaan volgen na de bachelor van je keuze? En op wat voor soort banen bereidt de opleiding voor?

April 11, 2015 09:00 - 17:30
verschillende locaties
Event
Description

Visit Us!

As an international student you are always welcome to visit the Faculty of Mathematics and Natural Sciences. Feel free to contact us at sciencebachelors@rug.nl.

July 01, 2014 - August 01, 2015
Nijenborgh 9

Webclass Physics

This webclass will give you an introduction to nanotechnology. In this field of science materials and systems are manipulated on a nanometer scale.

March 02, 2015 - March 20, 2015
Online

Open Day

Are you looking for information on our Bachelor programmes? Come to the Open Day of the University of Groningen on Saturday April 11. All 47 Bachelor programmes will be there to present themselves to you in the exciting city centre of Groningen.

April 11, 2015 09:00 - 17:30
different locations
Study associations
FMF

The FMF is an association for students of the studies (Applied) Mathmatics, (Applied) Physics, Computing Science and Astronomy of the University of Groningen.

The Fysisch-Mathematische Faculteitsvereniging (FMF) has over 600 members and offers them social, study related and profession orienting activities. Distinctive activities are the booksale, the exam database and the study trips abroad.
Follow us!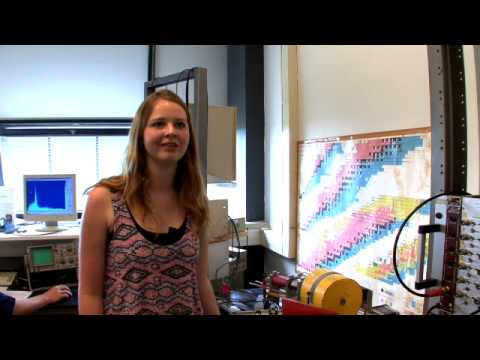 I'm really enjoying the classes
'One of the nice things about the degree programme in Groningen is the broad Bachelor's you have here: the first six months is the same for all Physics, Chemistry, Astronomy and Mathematics students. It means you can get to know other degree programmes, and after six months you choose your definitive degree programme.'
Op school had ik het profiel N&T, en vooral het vak natuurkunde 2 boeide me. Daarom heb ik vorig jaar de Open dag op locatie van natuurkunde bezocht. Na een proefcollege van een professor werden we rondgeleid door de vleugels van het gebouw waar de ingewikkelde machines staan. Vervolgens kregen we een kijkje in de laboratoria. Juist het enthousiasme van de mensen met wie ik die dag gesproken heb, sprak me heel erg aan. Een leuke bijkomstigheid van deze studie in Groningen is de brede bachelor die hier wordt toegepast: het eerste half jaar is voor studenten natuurkunde, scheikunde, sterrenkunde en wiskunde gelijk. Zo kun je ook aan vakken van die andere studies snuffelen, en na een half jaar een definitieve studierichting kiezen. Inmiddels ga ik met plezier naar de colleges. Het is wel een stuk zwaarder dan op school, maar ik vind die extra uitdaging juist leuk. Vooral de werkcolleges zijn erg nuttig; hier kun je vragen stellen over stof uit de hoorcolleges en moet je individueel of met zijn tweeën aan opdrachten werken. Je leert iets toch het beste door het zelf te doen. Daarnaast zijn die werkcolleges natuurlijk erg nuttig voor het bijhouden van sociale contacten: ik ga inmiddels veel om met mijn studiegenoten. Mijn studentenleven voelt heel anders, maar nu ik er zo over nadenk is er eigenlijk weinig veranderd. Zo woon ik nog steeds bij mijn ouders in Groningen. Hopelijk komt hier wel snel verandering in: mijn vriendin en ik zijn samen op zoek naar een huurhuis.
Tom Hafkenscheid
'My work involves supporting companies during transitions, mergers and acquisitions. That doesn't appear to have much to do with physics, but my analytical skills are very useful.'
Hedde van Hoorn
I think I'm getting a far better education than I would at home
"I would definitely recommend future students from the UK to study abroad! Moving to Groningen was a big step; however, the university and people were very welcoming. When I arrived there was a – very humourful! – welcoming ceremony for international students, which helped to introduce me to the university, the city and life in the Netherlands.
The application process is different to that of England, so that was a bit difficult. Finding an accommodation, on the other hand, was no problem at all. The university recommended me to look early and make use of the Housing Office, which turned out to be really helpful. The university itself is fantastic! My Physics course is difficult but engaging and the lecturers generally speak very good English. I think I'm getting a far better education than I would at home, as the teaching standard here is excellent. The mix of cultures and educational backgrounds is interesting and rarely acts as a barrier. It offers me the chance to see a new culture and all its quirks, something the Dutch culture does not lack!"
Ceri Richards
Jolien Diekema, student Natuurkunde
Programme movie
Close window
Previous quote
Next quote