Verwacht: BEYOND THE LAB: the DIY Science Revolution
23 november 2018 – 14 april 2019
Wetenschap is voor wetenschappers - of toch niet? Deze tentoonstelling vertelt zeven opmerkelijke verhalen over mensen die wetenschappelijk onderzoek openstellen voor iedereen, weg van de professionele laboratoria naar workshops, jouw eigen woonkamer en achtertuin. Van mensen die hun eigen medische behandeling voor diabetes ontwikkelen tot buurtbewoners die de luchtvervuiling meten: meer en meer wetenschappelijke doe-het-zelvers van over de hele wereld zoeken oplossingen, experimenteren, vinden uit. Deze pioniers van de doe-het-zelfwetenschap gebruiken goedkope sensoren, smartphone apps en delen informatie met online communities. Ze veranderen zo ons idee over wat een wetenschapper is en hoe wetenschap er in de toekomst uit zal zien.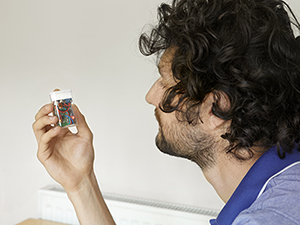 Wil je meer weten of zelf aan de slag als DIY-wetenschapper? Tijdens de expositie organiseren we lezingen, workshops en andere activiteiten rondom het thema DIY-wetenschap.
Voor het programma: bezoek www.rug.nl/beyondthelab, of blijf op de hoogte via sociale media #beyondthelabdiy
Deze tentoonstelling is een initiatief van Sparks in samenwerking met de Rijksuniversiteit Groningen. Deelnemende partners zijn: Science LinX, Universiteitsmuseum, Scholierenacademie en Studium Generale.
| | |
| --- | --- |
| Laatst gewijzigd: | 22 mei 2019 14:14 |