Anatomy room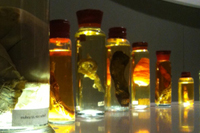 In the museum's anatomy room around 50 anatomical preparations are on display, as well as some skeletons and wax preparations. Some of the anatomical preparations are from the eighteenth century collections of Pieter de Riemer and professor Petrus Camper. Parts of the human body were prepared for educational purposes, such as a heart, a kidney or a section of bone to show the bone structure.
The prepared intestine by Pieter de Riemer is special. On it, the lymphatic vessels are injected with mercury because of which they have a silvery shine. Impressive also are the preparations of a full grown foetus and miscarriages, among which Siamese twins and a cyclops.
A torso that was frozen and then sawn in sections by Jan Willem van Wijhe at the beginning of the twentieth century shows the bones, organs and tissue in this part of the human body. The preparation of a blackened lung serves as an example of the lungs of mineworkers or tobacco smokers.
In 1615 the first anatomical lesson took place in Groningen in simple surroundings. In later years an anatomical theatre with a round gallery was built. The museum's anatomy room is arranged like an anatomical theatre.
Watch a short film on the anatomy room (in Dutch).
| | |
| --- | --- |
| Last modified: | 16 August 2019 2.59 p.m. |