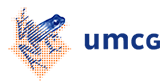 Publiek (NL)
Graag willen wij u van hieruit de weg wijzen naar de wetenschappelijke ambities van het UMCG, de aanpak daarvan en resultaten die hiermee zijn bereikt.
Het UMCG heeft voor de komende decennia het thema 'Healthy Ageing - gezond en actief ouder worden' als speerpunt gekozen. Dit thema behelst de hele levensloop van voor de conceptie tot aan onze dood. In het UMCG pakken we dit op 2 manieren aan. Door vergoten van het inzicht in verouderingsprocessen en het ontstaan van ziekten proberen we ziekten te voorkomen, daarnaast streven we ernaar dat mensen die leven met een ziekte zolang mogelijk actief kunnen blijven en een zo optimale kwaliteit van leven kunnen behouden. Binnen al onze kerntaken - zorg, onderzoek en onderwijs/opleidingen - werken we gezamenlijk aan deze doelen.
Wij willen dit graag met u delen en hebben hiervoor diverse kanalen gecreëerd zoals Het digitale populair-wetenschappelijke wetenschapsmagazine "Kennis InZicht" en de lezingencyclus "Medische Publieksacademie". Ook kunt u ons nieuws online volgen of vindt u het leuk om de verdediging van een medisch-wetenschappelijk proefschrift bij te wonen of een redevoering (oratie) ter ere van het verkrijgen van de titel van Professor. Deze zijn open voor publiek en worden aangekondigd in de agenda.
| | |
| --- | --- |
| Last modified: | 22 November 2013 11.44 a.m. |