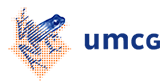 TissueFaxs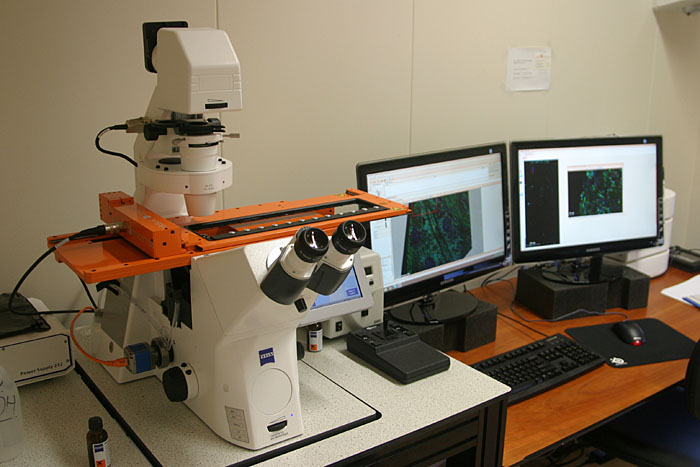 TissueGnostics TissueFAXS
This system combines detailed morphologic information of tissues and single cells offered by microscopy with the accuracy of multiparameter flowcytometry allowing quantitative expression measurements. Based on a high-end fully motorized Zeiss AxioObserver Z1 microscope
STAGE
◘ ultra precise automated Märzhäuser object table
◘ inserts for 12 separate slides or one multi (6 or 96) well plate
◘ pre-programmed for TMA analysis
◘ temperature, CO2 and O2 controlled live cell imaging insert (PeCon)
AVAILABLE OBJECTIVES
◘ Zeiss-objectief EC "Plan-Neofluar" 2.5x/0.075 Dry
◘ Zeiss-objectief EC "Plan-Neofluar" 10x/0,3 Dry, Ph1
◘ Zeiss-objectief LD "Plan-Neofluar" 20x/0,4 Corr Dry, Ph2
◘ Zeiss-objectief EC "Plan-Neofluar" 40x/1,30 Oil, DIC
◘ Zeiss-objectief "Plan-Apochromat" 63x/1,40 Oil, DIC
LIGHT SOURCES
◘ Zeiss LED Brightfield illumination
◘ EXFO Excite 120 PC fluorescence illumination.
FILTERS
◘ Zeiss-filter set 47 CFP shift free voor FRET
◘ Zeiss-filter set 46 YFP shift free voor FRET
◘ Zeiss-filter set 48 FRET CFP/YFP shift free voor FRET
◘ Zeiss Bleach Set 01 YFP voor FRET
◘ Chroma ET Dapi-filter set 49000
◘ Chroma ET FITC/GFP-filter set 49002
◘ Chroma ET CY3-filter set 49004
◘ Chroma ET Cy5-filter set 49006
◘ Chroma FITC- filter set 49011
◘ Chroma TXred/mCherry- filter set 49008
CAMERAS
◘ Monochrome camera system PCO Pixelfly II 1.4 Megapixels
◘ CMOS-color camera PL-B623 Pixelink 3.1 Megapixels
SOFTWARE
◘ TissueFaxs acquisition software
◘ TissueQuest fluorescence analysis software
◘ HistoQuest histology analysis software
Key features: fully automated slide scanning, multi-channel acquisition, generation of high-resolution overviews by Stitching, selectable ROI's, powerful algorithms for image processing, automated identification of cells, analysis at the single cell level, FACS-style dot-plot operations, backward gating from dot-to-cell, storage of virtual slide data and analyzed results.
An extra workstation for the off-line analysis is available
See also the TissueGnostics website for more information on the system.
| | |
| --- | --- |
| Laatst gewijzigd: | 22 april 2016 16:22 |