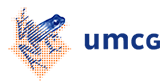 Miltenyi Biotec MACSQuant
General Information
In the FCU ( Flow Cytometry Unit ) one MACSQuant system is located. The MACSQuant system is used for both education and research purposes.
The MACSQuant is a compact bench top flowcytometer with three lasers (40, 488 and 640 nm) that provide the ability to analyze up to 9 parameters (FSC, SSC and seven colors (4 on the 488 laser, 2 on the 640 laser and 1 on the 405 laser). Also pulse processing (height, width and area) can be measured on all the parameters. The fluidics can measure at high (100 µl/min), medium (50 µl/min), and low (25 µl/min) flow rates. In addition to this absolute cell counting is possible (volumetric with a syringe pump). So there is no need of counting beads.
Besides manual delivering the sample to the MACSQuant for acquisition, multisampling using the MiniSampler can be performed. The MiniSampler can hold tube racks and varying formats of microtiter plates (96 well plates)
Samples are acquired (16 bits digitilizations in 5 decades) using the MACSQuantify software. Samples are saved as FCS3.0 files. Compensation afterwards is possible.
Specifications
Lasers
| | | |
| --- | --- | --- |
| Laser | Wavelength | Optical Power (at the flowcell) |
| Violet | 405 nm | 40 mW |
| Blue (diode pumped solid state) | 488 nm | 30 mW |
| Red | 635 nm | 20 mW |
Standard Configuration
| | | |
| --- | --- | --- |
| Detector | Filter | Fluorochrome (s) |
| FSC | 488/10 | - |
| SSC | 488/10 | - |
| FL - 1 | 450/50 | V450, Pacific Blue, BV421, DAPI, E450 (NC), Vivid, FxCycle Violet |
| FL - 2 | 525/50 | FITC, GFP, Alexa 488, CFSE, CFDA, FAM, Picogreen |
| FL - 3 | 585/40 | PE, PI |
| FL - 4 | 655-730 (655LP +split 730) | PI, PE-Cy5, Pe-Cy5.5, PerCP, PerCP-Cy5.5 |
| FL - 5 | 750LP | PE-Cy7 |
| FL - 6 | 655-730 (655LP + split 730) | APC, Alexa 633, Alexa 647, Cy5, Alexa 700 |
| FL - 7 | 750LP | APC-Cy7, APC-H7, APC-A750, APC E780 |
Sample Format
| | |
| --- | --- |
| | Sample format |
| Manual port | 5 ml tubes |
| Chill 5 rack (Using MiniSampler) | 24 x 5ml tubes |
| Chill 96 rack (Using MiniSampler) | 96-well microtiter plates |
| | |
| --- | --- |
| Last modified: | 15 October 2019 1.28 p.m. |