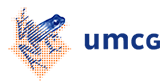 UMCG Committee for Language and Culture
The UMCG Committee for Language and culture (UCLC) was established in 2015 by the Dean of Education to ensure the comparability of the quality of the English and Dutch-taught parallel medicine programs.
Thus, our mission is to provide a sloping playing field to give all students an optimal learning environment, allowing them to thrive, regardless of their cultural background, first language, or the country of origin. We do so by raising awareness about linguistic and cultural barriers that students may face, making sure the English and Dutch taught programs are equivalent, and supporting all those involved in education in the process of creating an inclusive learning environment.
The members of the UCLC are lecturers, educational specialists, language specialists, intercultural communication trainers, management, as well as international and domestic students.
We focus on the following tasks to accomplish the goals outlined in our mission statement.
Offering assessment of spoken English of lecturers, following the requirement that all lecturers teaching in their non-native tongue should demonstrate at least the C1 proficiency of this language. If you are a lecturer and you would like to submit the recording of your teaching for assessment contact Rob Bakels or the UCLC (see below for contact information). If you have any questions about the process of assessment or the results, email Grazyna Drzazga:

g.m.drzazga umcg.nl

)

Providing English language support for lecturers and support staff (for more information, contact Grazyna:

g.m.drzazga umcg.nl

).

Offering tailor-made Intercultural Communication training.

Organizing the Welcome Event "Secret Bachelor Backpacking Guide" for all incoming first-year students during which we try to offer practical tips how to succeed in this new educational environment.

Read our online "UCLC Survival Guide,"

which accompanies the event.

Supporting international students in their journey to achieve the C1 Dutch proficiency required to enter the master phase.

Maintaining contact with students and trying to support them when they encounter language or culture related issues.
Contact information
UCLC language-culture umcg.nl
Rob Bakels (Chair of the UCLC) r.bakels umcg.nl
| | |
| --- | --- |
| Last modified: | 14 July 2023 10.51 a.m. |