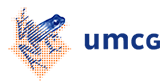 Standaard Werkplek (medewerkers)
Een standaard werkplek (pc) bestaat uit:
Standaard UMCG werkstation desktopmodel.
Standaard 24 inch LCD/LED monitor
Deze voldoen aan de eisen die gesteld worden aan het werken in de netwerkomgeving van de RUG of het UMCG.
Ieder werkstation kan worden uitgebreid met randapparaten.
Het werkstation wordt voorzien van standaard applicatie software.
Ondersteuning
Bestellen van een werkstation verloopt via uw manager bedrijfsvoering op de IDS bestelportal van het UMCG.
Printers en speciale of bijzondere uitvoeringen van pc's en laptops kunt u bestellen bij de Inkoop van de Servicedesk van sector F: Inkoop-ictF umcg.nl of via telefoonnummer (361) 6466.
ICT-UMCG maakt met u afspraken over het tijdstip van levering en levert de spullen werkend af. Nawerk, zoals niet goed werkende netwerkaansluiting of installatie van randapparatuur doet ICT-Support (servicedesk: tel 3611111). Ook voor storingen kunt u bij ICT-Support terecht.
| | |
| --- | --- |
| Laatst gewijzigd: | 18 april 2016 12:06 |