R.K. (Ranjita) Bose, Prof
Associate professor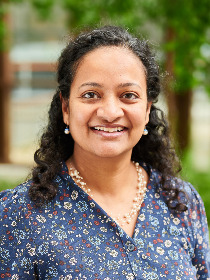 ---
PhD and postdoc supervision projects:

Guilherme M.R. Lima: Foaming of biodegradable polymers using supercritical CO2, 2020 – present
Adrivit Mukherjee: Electrically conductive hydrogels for sensor applications, 2020 – present
Pablo Gonzales: Polyketone cellulose membranes for water purification, 2020 - present
Jie Guo: Reversible Diels-Alder composites via solution-based and chemical vapor deposition-based approaches, 2020 - present
Paul van den Tempel: Thermally recyclable Diels-Alder networks, 2021 - present
Dr. Giovanni Fortunato: Stimuli responsive polymers with gradient in mechanical properties, 2021 - present
Yizeng Di: Gradient polymer thin films via initiated chemical vapor deposition, 2022 - present
Completed PhD supervision projects:
Afshin Dianatdar: Chemical vapor deposition of conductive polymers and their applications, 2017 – 2022
Felipe Orozco: Kinetics, rheological, and mechanistic studies of shape memory and self-healing in polyketones and their composites, 2018 – 2022
INDUSTRIAL COLLABORATIONS:
DSM Coatings and Resins, Zwolle, the Netherlands – CVD coatings of conductive polymers on cellulose nanofillers. Prof. Cor Koning
Philips, Drachten, the Netherlands – Understanding environmental stress cracking and ageing in polymers. Dr. Sepas Setayesh
Loparex, Appeldoorn, the Netherlands – Understanding the rheology of curing of silicone-based polymer release liners.
Foamplant, Groningen, the Netherlands – Rheological study of biodegradable polymer foams.
| | |
| --- | --- |
| Last modified: | 25 October 2022 2.10 p.m. |