Gelukkig gezond!
Educatief programma bij de tentoonstelling 'Gelukkig Gezond!'
Het programma bestaat uit een voorbereidings- en een museumles.
Groep 5 t/m 8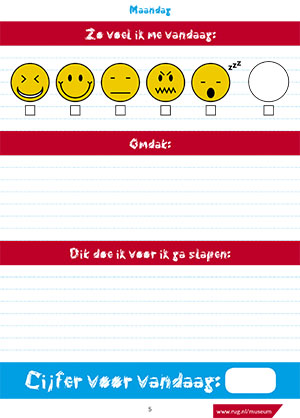 Voorbereidingsles
In de voorbereiding krijgen leerlingen inzicht in hun eigen gezondheid door een weeklang thuis een logboek in te vullen over voeding, beweging, slaap en de invloed van de omgeving en het weer op de eigen gezondheid.
Het doel van het bijhouden van het logboek: leerlingen bewust maken van de verschillende invloeden op hun eigen gezondheid en om het onderwerp te introduceren. Het bijhouden van het logboek is overigens zonder oordeel, bijvoorbeeld ten aanzien van gewicht.
Museumles
In de museumles doen de leerlingen vervolgens verder onderzoek naar de invloed van omgevingsfactoren op de gezondheid. Is healthy ageing iets van nu of van alle tijden?
De klas verdelen we in 6 groepjes. Ieder groepje krijgt een werkboek met vragen gericht op vergelijken, onderzoeken en het vormen van een mening.
Het werkboek is opgedeeld in de leidende thema's van de tentoonstelling: Uitscheiding (ontlasting, zweet), voeding, beweging, slapen, emoties en plaatsen. Wat zegt de vorm van je ontlasting over je gezondheid? Hoe kan je de schijf van vijf gebruiken om gezond te eten? Wat is de energiebalans? Hoeveel slapen we gemiddeld in ons leven? Word je gelukkiger van een knuffelmachine? Helpt een gelukspoppetje bij het maken van een toets?
Bij iedere omgevingsfactor wordt een verwijzing naar vroeger gegeven. Een voorbeeld: Tegenwoordig kun je de kwaliteit van je urine testen met een zogenaamde teststrip. Vroeger werd dit gedaan door een piskijker. Een piskijker testte urine door naar de kleur te kijken, te ruiken en te proeven!
Aan het einde van de museumles volgt een interactieve quiz waarbij de groepjes antwoord geven op vragen m.b.t. Gelukkig Gezond!
Verwerkingsles: De scholieren reflecteren op hun eigen logboek en schrijven tenminste één tip op die ze hebben opgedaan tijdens de museumles. Het is mogelijk om de verwerking in groepjes te doen, zodat de leerlingen elkaar tips geven. Denk aan vaker buiten spelen, omdat je gelukkiger wordt van zonnestralen of het geven van een compliment aan jezelf of een ander.
Lesmateriaal
Daarnaast is er vanaf het nieuwe schooljaar lesmateriaal op onze website te vinden voor actieve verwerking van de opgedane kennis.
| | |
| --- | --- |
| Laatst gewijzigd: | 06 december 2017 11:41 |