Zernike Institute for Advanced Materials Colloquium E. Barrena Villas
Roster
| When | Where |
| --- | --- |
| 08 March 2007 | FWN-Building 5111.0080, Nijenborgh 4, 9747 AG, Groningen |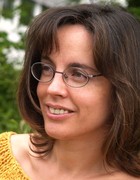 | | |
| --- | --- |
| Speaker: | Dr. Esther Barrena Villas |
| Affiliation: | Max-Planck-Institut für Metallforschung, Stuttgart, Germany |
| Title: | Towards the controlled growth of organic heterostructures for functional materials |
| Date: | Thu Mar 8, 2007 |
| Start: | 16.00 (Doors open and coffee available at 15.30) |
| Location: | FWN-Building 5111.0080 |
Abstract
The last decade has witnessed an increased emphasis on the development of devices based on organic semiconductors. Among the different explored materials, small aromatic molecules have been recognized as promising candidates for future applications, because they can be grown in films of high crystalline order, thus fulfilling one of the important requirements to obtain high charge carrier mobility.
However, in spite of the notorious progress achieved in the last decades in the fabrication of organic-based devices, the controlled growth of organic architectures is still a challenge. This is in contrast to inorganic systems, whose physical principles of growth have solidly been established and successfully exploited to control the fabrication of nanostructures.
We combine atomic force microscopy with in-situ x-ray diffraction to investigate the growth of different ordered architectures based on small aromatic molecules. The final goal is, on the basis of this understanding, to provide new routes for the design of organic 1D, 2D and 3D architectures and correlate them with electrical and optical properties.
| | |
| --- | --- |
| Last modified: | 22 October 2012 2.30 p.m. |