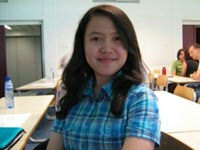 | | |
| --- | --- |
| Email | E.Stavila at rug.nl |
| Phone | +31 503635424 |
| Room number | 5118.0352a |
Enzymatic Polymerization of Polyamides
Polyamides are versatile engineering plastics and excellent fiber materials due to their toughness over wide ranges of temperatures. Polyamides are synthesized via two main methods, a) polycondensation of diacid and diamine and b) ring opening polymerization of lactams. The industrial production of most polyamides is a process involving high pressures and high temperatures. On the other hand, enzymatic polymerizations are excellent alternatives to traditional polymerization techniques as they proceed with high regio, enantio and chemoselectivity under relatively mild conditions.
Enzymes have been used so far to catalyze the synthesis of polyesters, polysaccharides, polycarbonates, polyphenols, polyanilines, vinyl polymers and poly(aminoacid)s. Little, however, has been reported on synthesizing polyamides catalyzed by enzymes. This is surprising considering the high importance of polyamides in engineering materials. The aim of this study is to synthesize polyamides via enzymatic polycondensation and ring opening polymerization, and to establish possible mechanisms for enzymatic polymerization of polyamides.
In this research we choose enzymes from hydrolases class which is lipase. Lipases are water soluble enzymes that catalyze hydrolysis of ester bond in aqueous solution. However, these enzymes catalyze formation of ester bond in organic solvents. Lipase A and B from Candida antarctica (known as CAL A and CAL B) are enzymes that we use in this enzymatic polymerization of polyamides. Dimethyladipate (aliphatic diester) and diethylenetriamine (aliphatic diamine) are used as substrates for the polycondensation. Lactam ring such as beta-propiolactam and other higher ring size lactam (d-valerolactam, e-caprolactam and capryllactam) are investigated for ring opening polymerization as you see in Figure 1.

| | |
| --- | --- |
| Laatst gewijzigd: | 01 juli 2015 10:53 |