Prof. dr. S. Shandarin, Department of Physics and Astronomy, The University of Kansas, USA: Physics of the Cosmic Web
Roster
| When | Where |
| --- | --- |
| 27 September 2012 | FWN-Building 5111.0080, Nijenborgh 4, 9747 AG, Groningen |
| | |
| --- | --- |
| Speaker: | Prof. dr. Sergei Shandarin |
| Affiliation: | Department of Physics and Astronomy, The University of Kansas, USA |
| Title: | Physics of the Cosmic Web |
| Date: | 27-09-2012 |
| Start: | 16.00 (Doors open and coffee available at 15.30) |
| Location: | FWN-Building 5111.0080 |
| Host: | Peter Barthel |
Abstract
Despite of all successes in observational and theoretical studies of
the cosmic web, many problems stay on the way to full understanding
of its formation and evolution. I will review recent theoretical
work and results in studies of geometrical and topological properties
of the cosmic web. The geometry and topology of the web are determined by
both the initial conditions and complicated non-linear dynamics of
the physical process known as the gravitational instability of 
the expanding universe. Recent developments in visualizing the
cosmological N-body simulations open new prospects in understanding
the phase space of dark matter - the component playing the major role in 
the formation and evolution of the cosmic web especially on 
extragalactic scales.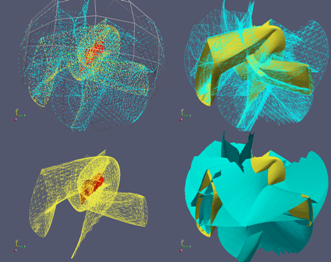 | | |
| --- | --- |
| Last modified: | 12 September 2014 11.22 a.m. |