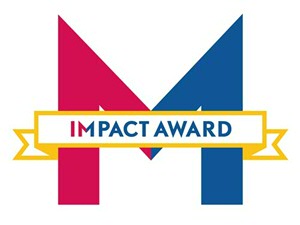 Sustainable Society and ACCOMPLISSH set up two Impact Awards, one in 2016 and one in 2018. This award was...
... for PhD students at the University of Groningen to stimulate societal impact from scientific research;
... part of the Horizon 2020 project ACCOMPLISSH that is being coordinated by Sustainable Society at the University of Groningen (www.accomplissh.eu).
To win this award, PhD's were challenged to show in a 60-second video-pitch what his/her research is about and how society can profit from it.

In 2016 the prize was a money prize*:
1st place - €1000,- + presentation of his/her research in Rome, Italy (ACCOMPLISSH opening event, 20-22 November 2016)
2nd place - €750,-
3rd place - €500,-

*which is meant for the PhD to invest in expanding both their academic and non-academic network related to the research topic.
In 2018 the award provides the winner:
- The possibility to show his/her research at the final conference of ACCOMPLISSH. The winner presents his/her research via a poster presentation at the ACCOMPLISSH co-creACTION summit in Barcelona, on 31 January 2019.
In 2016, the video's were judged by our expert jury, consisting of:
Nicol Keith, University of Glasgow (UK)
Renée van Kessel - Hagesteijn, Director Social Sciences of NWO, the Dutch organisation for scientific research (NL)
Peter den Oudsten, Mayor of Groningen (NL)
Sharon Smit, Director of Sustainable Society and coordinator of ACCOMPLISSH (NL)

In 2018, the video's were judged by our expert jury, consisting of:
Christoph Köller, Owner and director Görgen & Köller GmbH (DE)
Jaliene Kwakkel, Projectmanager Sustainable Society, University of Groningen (NL)
Peter Meister-Broekema, Coordinator of ACCOMPLISSH (NL)
Wytze Rijke, Director TCNN (Technology Center Northern-Netherlands) (NL)
The videos of 2016 & 2018
Name

Faculty

Key Words

Video

WINNER 2018: Eva Maersk (F)
Spatial Sciences
Young regional stayers, community, social network, life choices, narratives, peripheral regions, place attachment, belonging.
EVA MAERSK
WINNER 2016: Steven Forrest (M)
Spatial Sciences

Flooding, Flood Resilience, Sustainability, Sustainable Futures, Citizen Initiatives, Communities, the UK, the Netherlands

STEVEN FORREST

2ND PLACE 2016: Daniël Postma (M)
Arts

Experimental archaeology, turf construction, medieval longhouses, TV documentary, book for a general public, sustainable architecture, eco-buildings

DANIEL POSTMA

3RD PLACE 2016: Stephanie Jurburg (F)
Science and Engineering

Microbial Ecology, Soil, Fertility, Resilience

STEPHANIE JURBURG

THE OTHER VIDEOS (in alphabetical order):

Matheus Arts (M)

Medical Sciences

Frailty, Late-life depression, Healthy aging, Older adults

Melanie Bakema (F)

Spatial Sciences

Disaster Governance

Roberta Bartucci (F)
Faculty of Science and Engineering
Toxicology, nano-materials, nano-safety, nanotechnology
ROBERTA BARTUCCI

Tess Beking (F)

Behavioural and Social Sciences

brain, sex hormones, lateralisation, prenatal, amniotic fluid, transgender, gender dysphoria, cognition, behaviour

Amanda Brouwers (F)

Arts

Entrepreneurial Journalism; Action Research; Journalistic Roles; Democracy.

Michelle Bruijn (F)

Law

Drug policy, Cannabis, Drug-related crime, Human Rights, Drug-evictions

Marit Drijfhout (F)

Economics and Business

Food waste, Consumer Behaviour, Sustainable practices Temporal construal level theory, Virtue and vice foods

Aynur Erdogan (F)

Arts

Orient; American imagination; cultural articulations; ideology; French and English philosophy; Revolutionary debate; early republic; Barbary States; textual mobility; the Self and the Other (…)

Ruth Koops van 't Jagt (F)

Arts

health literacy, health communication, public health, older adults, doctor-patient communication, healthy ageing

Priscila Mazzola (F)

Medical Sciences

metabolic disorders, phenylketonuria, PKU, exercise, aerobics, health, brain

Faris Nizamic (M)

Science and Engineering

Smart Energy Systems, Sustainable Buildings, Internet of Things, Cloud Computing

Amber Nota (F)

Arts

Minority language, bilingualism, linguistics, prosody, spoken language, language education

Beau Oldenburg (F)

Behavioural and Social Sciences

bullying; victimization; elementary schools; teachers; prevention

Laurens Polgar (M)

Mathematics and Natural Sciences

Rubber, recycling, cross-linking, new chemistry
Audrey Rousse-Malpat (F)

Arts

Effectiveness of L2 teaching, Explicit implicit learning

Annaclaudia Martini (F)

Spatial Sciences

dark tourism, emotions, affect, resilience

Anna Pot (F)

Arts

Aging, migrants, second language acquisition, participation, wellbeing, healthcare, autonomy

Angela Ruepert (F)

Behavioural and Social Sciences

Sustainable society, Pro-environmental behaviour, Workplace, Societal impact

Ali Syari'ati (M)
Faculty of Science and Engineering
Graphene, molybdenum disulphide, mos2, physics, two-dimensional material
ALI SYARIATI

Joeri Schasfoort (M)

Economics and Business

Agent-based modelling, housing market, financial stability, complexity economics, banking, central banking

Vincenzo Terlizzi

(M)

Medical Sciences

Stem cells, artificial organs, 3D bioprinting,

tissue engineering, regenerative medicine
| | | | |
| --- | --- | --- | --- |
| Berend van der Kolk (M) | Economics and Business | Management, Austerity, Crisis, Control, Constraining, Facilitating, Sustainable, Society, Public Sector. | |
| Hector Garcia Romeu (M) | Faculty of Science and Engineering | Nanomedicine, nanoscale, nanoparticles, endocytosis | HECTOR GARCIA ROMEU |
| Annisa Wiharani (F) | Arts | cities, city networks, global environmental governance, international relations, pilot cities, best practices, sustainable city, sustainable development goals, policy learning, public participation | |
| Jorieke van der Willik (F) | Medical Sciences | Adolescents, primary care, Europe, measurement, MOCHA (models of child health appraised) | |
| | |
| --- | --- |
| Laatst gewijzigd: | 16 april 2019 12:38 |