Youth course (NL)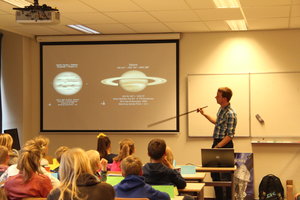 What exactly are those stars in the evening sky and how far away are they?
Why is the Moon sometimes full and sometimes half full?
What are black holes?
Which planets are there besides Earth?

Do you like these questions and do you want to know the answer? Then you should definitely participate in the astronomy youth course. Here you can learn everything about the universe.

For whom?
Young people aged 8 to 12 years (Elementary school groups 5 to 8).

When?
The astronomy courses in the academic year 2019-2020 will take place on Fridays in the winter (15, 22, 29 of November, 13 and 20 of December 2019) and in the winter (15, 22, 29 of May and 5 and 12 of June 2020). The evenings last from 18:30 till 20:00. If the weather is nice, we will pay a visit to the Blaauw Observatory during the evening.

Where?
Bernoulliborg, Nijenborgh 9, on the Zernike Campus in the city of Groningen. You can find directions here.

What are the costs?
The costs of the youth course are €50,-. This includes your participation in the course, receiving a course booklet and becoming a member of the Jongerenwerkgroep voor Sterrenkunde (JWG). This is the national astronomy association for young people, aged 8 to 21 years. The JWG issues the magazine 'Universum' four times a year, organizes camps and has got regional departments, including one in Groningen!
Sign up for the course?
Enrollments for the astronomy courses can be done online. The maximum number of children that can join the courses are 30. When the course is full, the links are automatically disabled.
The sign up form for November/December 2019:
The sign up form for May/June 2020:

And further...
This interactive course is organized by students and staff of the Kapteyn Institute, the astronomy department of the University of Groningen. Every course day we will work on a different subject: the Earth and the Moon, the Solar System, planets around other stars, stars and galaxies, the universe, and all what can be seen in the starry sky. Of course, the best part would be if you could really experience these topics yourself. Therefore, we will visit the Blaauw Observatory to look at stars (during a clear night) and travel through the universe in the Kapteyn mobile planetarium.
Sign Up
If you are interested you can register here for the 'interest list'. As soon as the registration for the next yough course opens, you will be notified.

Contact
The persons to contact for the course are Janke Prins and Willeke Mulder. If you have any questions, you can send an e-mail to cursus astro.rug.nl.
| | |
| --- | --- |
| Last modified: | 20 September 2019 10.58 a.m. |