Rethinking Journalism II The Societal Role & Relevance of Journalism in a Digital Age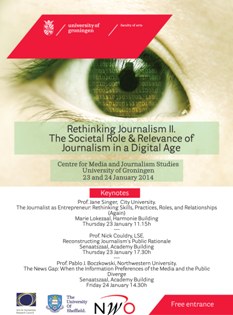 It's easy to make a rhetorical case for the value of journalism. Because, it is a necessary precondition for democracy; it speaks to the people and for the people; it informs them and enables them to take rational decisions; and it functions as their watchdog on government and other powers that be….
All true! But does rehashing such familiar rationales bring Journalism Studies forward? Does it contribute to ongoing discussions on journalism's viability?
This expert workshop aims to discuss what journalism is beyond the established rhetoric among scholars and practitioners. For all their seeming self-evidence, what bearing do these platitudes have in terms of the actual social relevance of journalism in the digital age? How much affinity does this talk share with the concrete roles journalism performs? And what about journalism as a cultural form itself? Is there a singular journalism that has one well-defined role in society?
This event is organized by the Research Network "Capturing Change in Journalism: Shifting Role Perceptions at the Turn of the 20th and 21st Centuries" run by the journalism departments of the universities of Groningen and Sheffield. The network is funded by the British and Dutch science foundations, AHRC and NWO. It builds upon themes raised in Rethinking Journalism (Chris Peters and Marcel Broersma eds., Routledge, 2012), a collection generated out of a similar workshop organised in 2009.
Thursday Jan 23rd
11.00-11.15 Opening
11.15-12.30 Keynote: Jane Singer (City University)
The Journalist as Entrepreneur: Rethinking Skills, Practices, Roles, and Relationships (Again)
Location: Marie Lokezaal, Harmonie Building, Oude Kijk in 't Jatstraat 26, Groningen
12.30-13.30 Lunch
13.30-14.15 Panel 1 (Chair: Stuart Allan)
- Tamara Witschge and Jeroen Smit (University of Groningen)
Funding the news: budget cuts, reorganisations and entrepreneurs in the journalistic field.
- Mark Deuze (University of Amsterdam)
Beyond Journalism.
14.15-15.00 Panel 2 (Chair: Stuart Allan)
- Avery Holton (University of Utah)
Reciprocal Journalism
- Kaori Hayashi (University of Tokyo)
Journalism of Care: An alternative media ethics for the digital information age
15.00-15.30 Coffee
15.30-16.15 Panel 3 (Chair: Marcel Broersma)
- Jesse Owen Hearns-Branaman (National Institute of Development Administration, Bangkok)
How Journalists in China, Thailand, UK & the USA Talk About Truth and Power: A Comparison of the Fourth Estate Role
- John Steel (University of Sheffield)
Critique, conformity and collusion in Journalism (Studies)
16.15-17.00 Panel 4 (Chair: Martin Conboy)
- Matt Carlson (Saint Louis University)
On Platitudes and Public Attitudes: Connecting Metajournalistic Discourse, Boundary Work, and Journalistic Authority.
- Wiebke Loosen (Hans Bredow Institute)
Journalism as a (De-)Differentiated Phenomenon
17.00-17.30 Break

17.30-19.00 Keynote: Nick Couldry (LSE)
Location : Senaatskamer, Academiegebouw, Broerstraat 5, Groningen.
Reconstructing Journalism's Public Rationale
19.30- Conference Dinner

Friday Jan 24th
9.00-9.45 Panel 5 (Chair: Chris Peters)
- David Domingo (Université Libre de Bruxelles)
News networks in everyday life: from normative discourses about journalism to social roles negotiated through practice
- Zvi Reich (Ben Gurion University of the Negev)
Losing a beat: The unravelling cultural capital of news organizations as a multi-level indicator for the state of organized news reporting.
9.45-10.30 Panel 6 (Chair: Martin Conboy)
- Rasmus Kleis Nielsen (Roskilde University & University of Oxford)
Varieties of online gatekeeping: a cross-national comparative analysis of news media websites, search engines, and social networking sites as gateways to news.
- Alice Corona and Stefania Milan (Tilburg University)
Fact-Checking and the Journalistic Tradition: How Does Technology Contribute to Shape Contemporary Journalistic Practice?
10.30-11.00 Coffee
11.00-11.45 Panel 7 (Chair: John Steel)
- Tianbo Xu (University of Sheffield)
How has the internet impact ed on traditional journalism in the context of China ? Role perceptions of Chinese journalists
11.45-12.30 Panel 8 (Chair: Stuart Allan)
- Eugenia Siapera (Dublin City) & Lambrini Papadopoulou (Panteion Univ.)
Reclaiming Journalism. Radical journalism in a post-democratic context
- Karin Wahl-Jorgensen (Cardiff University)
Is there a "postmodern turn" in journalism?
12.30-13.30 Lunch
13.30-14.15 Panel 9 (Chair: Martin Conboy)
- Sarah Oates (University of Maryland)
Journalism and the Rewired Audience.
- Irene Costera Meijer (VU Amsterdam)
Rethinking journalism studies from the audiences' point of view.

14.30-15.30 Keynote: Pablo Boczkowski (Northwestern University)
Location : Senaatskamer, Academiegebouw, Broerstraat 5, Groningen.
The News Gap: When the Information Preferences of the Media and the Public Diverge
15.30-16.00 Closure
| | |
| --- | --- |
| Last modified: | 22 January 2014 12.59 p.m. |