Cultural Leadership Seminar - Tim Boon (Science Museum, London): "Cultivating research in the Science Museum Group"
| | |
| --- | --- |
| When: | Th 24-01-2019 16:30 - 18:00 |
| Where: | Groninger Museum, Job Lounge |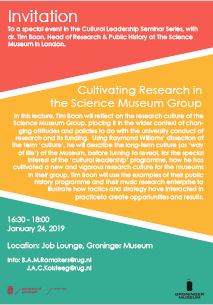 In this lecture, Boon will reflect on the research culture of the Science Museum Group, placing it in the wider context of changing attitudes and policies to do with the university conduct of research and its funding. Using Raymond Williams' dissection of the term 'culture', Boon will describe the long-term culture (as 'way of life') of the Museum, before turning to reveal, for the special interest of the 'cultural leadership' programme, how he has cultivated a new and vigorous research culture for the museums in his group. He will use the examples the Museum's public history programme and its music research enterprise to illustrate how tactics and strategy have interacted in practice to create opportunities and results.