Surviving off the land and sea
Understanding the expansion of European commercial hunting systems into the High Arctic – a case-study of Pomors on Spitsbergen (18th – first half 19th century)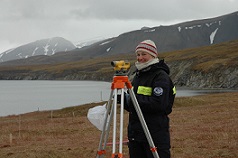 Sarah-Jane Dresscher, M.A.
E-mail: s.dresscher@rug.nl
Supervisors: Prof. dr. Louwrens Hacquebord and Prof. dr. Peter Jordan
Period of employment: 1 April 2014 - 1 April 2017
Financed by: University of Groningen
Project Description:
This PhD project deals with the Russian Pomor hunting activities on Spitsbergen during the 18th and 19th century. The focus lies on the way they lived and worked under Arctic circumstances. Its main aim is to:
- Understand why the Russian Pomors expand into Spitsbergen; what did they do there?
- Investigate how the Pomors organised their activities on Spitsbergen.
In order to understand this it is necessary to look into the subsistence strategy as well as their commercial activities. The Pomor hunting systems in Spitsbergen transcends this divide between subsistence and commercial hunting. This creates many new and interesting research questions. On the one hand, it is clear that Pomor groups were sent to Spitsbergen to make a profit by obtaining valuable resources. They needed to organise their activities throughout the annual cycle to make this possible. But on the other hand, these groups also needed to survive the extreme conditions of the High Arctic, and to 'live off the land and sea' as well as to make a profit. This would have generated many tensions between the motivations to survive but also to be commercially successful. Understanding exactly how and why Pomor groups solved these basic problems is the main goal of the PhD project.
| | |
| --- | --- |
| Last modified: | 23 July 2018 1.29 p.m. |