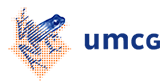 Research Institute GUIDE
Groningen University Institute for Drug Exploration (GUIDE) is one of the five institutes of the University Medical Center Groningen (UMCG). Its main asset is the integration of clinical, biomedical and pharmaceutical research, which promotes the education of researchers with a keen eye on the complete spectrum of biomedical research in a unique research and teaching environment: from bed to bench to drugs.
Research focus and strategy
Researchers at GUIDE focus mainly on:
- Lead discovery, development of new drugs, drug delivery and advanced formulation technology
- Translational research on the molecular and cellular mechanisms underlying disease (aetiology and pathophysiology) and on research related to treatment of disease, e.g. in the context of clinical trials and by using relevant animal models.
New insight into the pathophysiology of a selected number of diseases leads to the development of new drugs and/or treatment options (from bench to bed). Alternatively, patient-oriented research is structured in such a way that this leads to new pathophysiological concepts (from bed to bench). This basic philosophy starts from the idea that new concepts for treatment of diseases are most fruitfully initiated and explored in 8 focussed programs by combining knowledge concerning the pathophysiology of a collection of related diseases with the knowledge concerning drugs.
The programs within GUIDE are structured in such a way that optimal co-operation between clinical, preclinical and pharmaceutical researchers can take place: organized in multidisciplinary embedded across the University Medical Center Groningen and the University Center for Pharmacy. This is a unique approach in the Netherlands. Dissertations and scientific publications of GUIDE researchers are available via this website as well.
To achieve these goals, GUIDE performs and stimulates translational, innovative drug oriented research on a selected number of diseases and chronic diseases in an interdisciplinary setting, based on a quality-driven strategy of 'Focus and Mass' (Quality and Quantity).
Contact information
Director: Prof. dr. J.G.W. (Jos) Kosterink (j.g.w.kosterink umcg.nl)
Deputy Director: Prof. dr. H.W. (Erik) Frijlink (h.w.frijlink umcg.nl)
GRIP Research Coordinator: Anne J. Lexmond (a.j.lexmond umcg.nl)
Policy Advisor: dr. M.J. (Michelle) Pena (m.pena umcg.nl)
Secretary: M.T.L. (Mathilde) Pekelaer (m.t.l.pekelaer umcg.nl)

Visiting address:
Ant. Deusinglaan 1, Building 3217 ('de Brug'), Room 7.31
9713 AV Groningen
The Netherlands
Phone: +31 50 361 6481
E-mail: m.t.l.pekelaer umcg.nl
Related information
> More information on website Research Institute GUIDE
| | |
| --- | --- |
| Last modified: | 17 May 2019 10.17 a.m. |