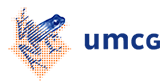 Cancer Research Center Groningen
The CRCG was founded in 2012 as a research institute of the University Medical Center Groningen (UMCG). The four research programmes are characterized by a strong interaction between basic, translational and clinical research activities, and provide a stimulating research and training environment for senior scientists as well as for young aspiring investigators.
The programmes reflect the mutual research interest of major research departments within the UMCG. The general themes are focused on the clarification of molecular mechanisms that determine malignant transformation in a broad spectrum of tumours and to translate these fundamental insights into improved early detection and treatment of cancers. As part of this research endeavour, biomarkers are also developed that can be used at an early time point to predict long-term side effects. These topics are integrated in the following four research programmes:
The four research programmes are headed by 2-3 programme leaders. The research programmes are supported by approximately 77 PIs and 158 PhD or MD/PhD students. All CRCG PhD and MD/PhD students participate in the UMCG's Graduate School of Medical Sciences (GSMS) that provides and organizes training and educational activities, and monitors progress of the PhD students.
CRCG Management team
Prof. M.A.T.M. (Marcel) van Vugt, director
Prof. Jan Jacob Schuringa, Education
Dr. Schelto Kruijff, Community
Dr. Marco Demaria, Grant support
M.J. (Michelle) Pena, PhD (m.pena umcg.nl), research coordinator
Ms. E.T. (Evelyn) Kuiper-Drenth (e.t.kuiper-drenth umcg.nl), secretary
Visiting address
Ant. Deusinglaan 1, Building 3217 ('de Brug'), Room 7.31
9713 AV Groningen
The Netherlands
Phone: +31 50 363 4734
E-mail: crcg umcg.nl
| | |
| --- | --- |
| Last modified: | 10 March 2020 11.50 a.m. |