Dwars Herdenken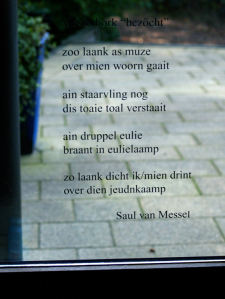 Ter gelegenheid van de herdenking van de salchtoffers van de Tweede Wereldoorlog morgen, schrijft Tsila Rädecker over de controversiële Joodse historicus uit Groningen, Jaap Meijer.
Veel mensen staan alleen tijdens de 4 mei herdenking stil bij de verschrikkingen van de Tweede Wereld Oorlog. Dit in tegenstelling tot de in 1993 overleden joods historicus Jaap Meijer. Zijn historisch werk kan gelezen worden als één grote herdenking van het Nederlandse joodse verleden. In diverse publicaties, veelal uitgegeven in eigen beheer, ventileerde Jaap – niet gehinderd door wetenschappelijke mores – zijn oordeel over het Nederlands joodse leven.Volgens hem was de emancipatie van de joden in Nederland het begin van het einde van het Jodendom: het Jodendom was al dood voordat Hitler kwam. Verlichte joden die sociaal geaccepteerd wilden worden, verloochende hun joodse wortels. Er bleef volgens hem 'niets wezenlijks' over (1). Debet aan de verkwanseling was in zijn ogen ook de oprichting van het Joodse Seminarium waar 'de jonge jongens uit het Amsterdamse proletariaat of uit de middenstand der "Mediene" [provincie] werden opgevoed tot slaafse waardering voor een stelsel, dat noch sociaal, noch geestelijks iets uitstaande had met een religieus systeem' (2).
Niet alleen de verlichte emancipatoren kregen een negatieve waardering van Jaap. Het dedain voor hoogwaardigheidsbekleders in de joodse gemeenschap loopt als een rode draad door zijn oeuvre (3). Zo laat de titel Hoge Hoeden, Lage Standaarden weinig twijfel bestaan over zijn mening over de rol van de joodse raad ten tijde van de Tweede Wereldoorlog.
Volgens Prof. Dr. Evelien Gans, biografe van Jaap Meijer, moet zijn afkeer voor de joodse elite zijn ontstaan tijdens zijn studie aan het Joods Seminarium in Amsterdam. Als Groningse mediene jood van geringe afkomst was acceptatie door de joodse gemeenschap niet vanzelfsprekend. Bovendien was hij afhankelijk van de liefdadigheid van de gemeenschap en werd door hen gevoed. Elke avond schoof Jaap bij een andere joodse familie aan als täg-esser of zoals hij het zelf noemde menseneter (4).
Daarnaast kan Jaap Meijer´s werk niet los worden gezien van zijn kampverleden. Samen met zijn vrouw Liesje Voet en de ´baby´ Ischa Meijer overleefden ze Bergen-Belsen. Datzelfde oorlogsverleden maakte van hem een fervent verdediger van wat hij als het ware Jodendom beschouwde. Dat Jaap de contramine niet schuwde, blijkt uit het spoor van conflict dat hem altijd vergezelde. Zijn werk wordt gekarakteriseerd door een polemische schrijfstijl en harde oordelen over eenieder die bijdroeg aan de in zijn ogen vergaande joodse secularisatie. Maar lees je door alle verzuurde opmerkingen, katten en verdachtmakingen heen, dan slaagt Jaap Meijer er wel in om het verdwenen joodse leven middels zijn gekleurde publicaties te laten herleven.
(1) Tsila Rädecker is promovendus bij de Faculteit Theologie en Godsdienstwetenschappen in Groningen. Zij doet onderzoek naar de modernisering en formatie van de joodse identiteit van 1793-1848
(2) Jaap Meijer, Erfenis der Emancipatie. Het Nederlandse Jodendom in de eerste helft van de 19e eeuw (Haarlem: Uitgeverij Bakenes, 1963), 9.
(3) Meijer, Erfenis der Emancipatie, 8.
(4) Jaap Meijer, Hoge hoeden. Lage Standaarden: de Nederlandse joden tussen 1933 en 1940 (Baarn: Wereldvenster, 1969).Een systeem uit Oost-Europa waar de gemeenschap beurtelings de yeshive studenten bij zich aan tafel uitnodigden. Zie ook, Evelien Gans, Jaap en Ischa Meijer. Een joodse geschiedenis 1912-1956 (Amsterdam: Bert Bakker, 2008), 77-85.
Comments