F3 Platform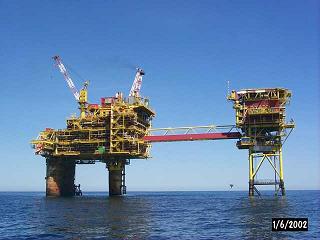 The atmospheric measurement site F3 is situated in the central North Sea. The closest land (the Netherlands) is located 200 km away from the measurement station. It is an ideal location for measuring atmospheric background concentrations as measurements with NW wind are hardly affected by terrestrial emissions. Analysis of gas mixing ratios is relatively straightforward as the maritime atmosphere is usually well-mixed because night-time inversions are basically absent and the cold air from the north (west) is warmed up at the surface, creating an unstable, well-mixed atmospheric boundary layer.
Multi-year changes of CO2 and O2 mixing ratios are measured with the Oxzala system (see figure, van der Laan-Luijkx et al., 2009). The name Oxzala is a combination of the Oxzilla to measure the O2/N2 ratio with high precision, and two intercalibrated Vaisala's that measure the CO2 concentration. The gas cylinders under the instrument are used for calibration. The data, as well as data from other platforms, have been used to study oceanic uptake of CO2 (van der Laan, Luijkx et al., 2010)
The F3-FB-1 (short: F3) platform produces both oil and gas. Until 2008 it was owned by the Dutch oil company NAM and after that it was transferred to GdF Suez. It is situated around 200 km north of the Dutch coast ( 54º51'N, 4º 44'E ), see Figure. The platform consists of two parts connected by a bridge. One part is the production platform, the other is the accommodation platform. The positioning of the production platform was intentionally north of the accommodation platform, for safety purposes. As the prevailing wind direction is south-west, potential leakages or fires are blown away from the accommodation platform. The ideal situation for atmospheric measurements on this oil and gas platform is therefore on the south-west corner of the accommodation platform. This is where the air-inlet of the measurement system is situated. The air inlet is on the topmost deck, which is around 50 meters above sea level.
References
van der Laan-Luijkx, I.T., Neubert, R.E.M., van der Laan, S., and Meijer, H.A.J., 2009: Continuous measurement of atmospheric oxygen and carbon dioxide on a North Sea gas platform. Atmospheric Measurement Techniques, 3, 1693-17024.
van der Laan-Luijkx, I.T., Karstens, U., Steinbach, J., Gerbig, C., Sirignanon, C., Neubert, R.E.M., van der Laan, S., and Meijer, H.A.J., 2010: CO2, δO2/N2 and APO: observations from the Lutjewad, Mace Head and F3 platform flask sampling network, Atmospheric Chemistry and Physics Discussions, 10, 10691-10704.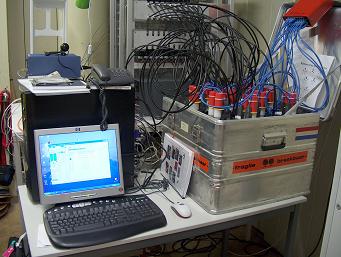 | | |
| --- | --- |
| Last modified: | 12 April 2017 3.01 p.m. |