Sustainability of People in the Polar Regions
Master course Arctic Centre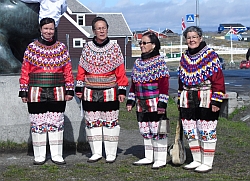 Multidisciplinary advanced master course for master students, Ph.D. students and Post-Academic Courses. Available for all studies, in English.

Course description From an historical analysis of human presence in the Arctic and the Antarctic, we will expand towards a future perspective for the polar regions with themes like exploration, exploitation and governance. Ice is disappearing and access to the poles is changing due to new technology and climate change. How will these changes affect local and global societies. Is there a sustainable future for people and nature in this vulnerable environment. We will discuss this future from a historic, ecological and management perspective and focus on interactions between nature and humans.
Learning outcomes The student has gained insight in the history of human development in the polar areas and can develop a view based on a historical context of economic and political development, governance and conservation. The student can discuss future developments in the polar areas in the context of sustainability.
Enrolling Send an e-mail to the secretary of the Arctic Centre, Rianne Hofman (arctisch rug.nl), and give your name, student number, telephone number and e-mail address.
With approval of your study advisor this course is relevant for any study. For all Biology students athe RUG this course is already approved.
| | |
| --- | --- |
| Code | LKR013M05 |
| Co-ordinator | Maarten J.J.E. Loonen, Arctic Centre, University of Groningen |
| Lecturers | Maarten Loonen, Peter Jordan |
| 5 ECTS | 140 hours |
| Timing | semester II, week 11-15 |
| Maximum | 20 participants |
| Entrance level | Completed bachelor |
| Language | Full course in English |
| Extra | The course can be integrated with 5 ETCS Polar Ecology at the Faculty of Science, biology or an individual extra part of 5 ETCS at the Faculty of Arts for archaeologists. |
| | |
| --- | --- |
| Laatst gewijzigd: | 14 februari 2019 17:14 |