Publieksacademie lezing 'Burger versus overheid' 8 februari 2017
Wanneer:

wo

08-02-2017 19:00 - 21:00
Waar:

Academiegebouw, Broerstraat 5, Groningen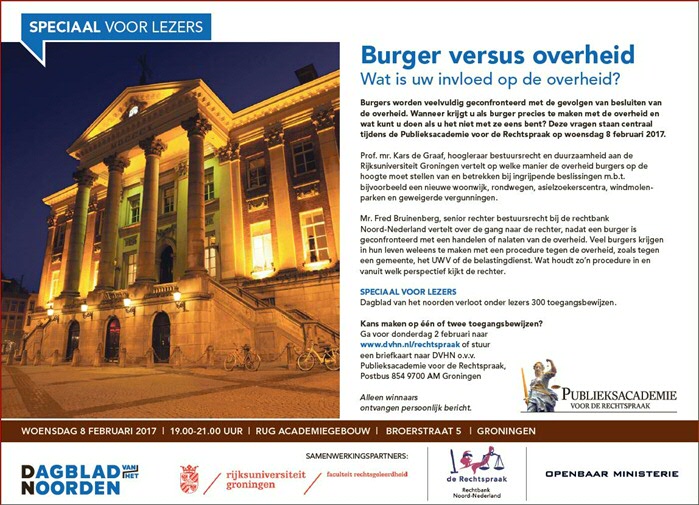 Burgers worden veelvuldig geconfronteerd met de gevolgen van besluiten van de overheid. Wanneer krijgt u als burger precies te maken met de overheid en wat kunt u doen als u het niet met ze eens bent? Deze vragen staan centraal tijdens de Publieksacademie voor de Rechtspraak op woensdag 8 februari 2017.
Prof. mr. Kars de Graaf, hoogleraar bestuursrecht en duurzaamheid aan de Rijksuniversiteit Groningen vertelt op welke manier de overheid burgers op de hoogte moet stellen van en betrekken bij ingrijpende beslissingen m.b.t. bijvoorbeeld een nieuwe woonwijk, rondwegen, asielzoekerscentra, windmolenparken en geweigerde vergunningen.
Mr. Fred Bruinenberg, senior rechter bestuursrecht bij de rechtbank Noord-Nederland vertelt over de gang naar de rechter, nadat een burger is geconfronteerd met een handelen of nalaten van de overheid. Veel burgers krijgen in hun leven weleens te maken met een procedure tegen de overheid, zoals tegen een gemeente, het UWV of de belastingdienst. Wat houdt zo'n procedure in en vanuit welk perspectief kijkt de rechter?
Aanmelden
Wilt u bij deze lezing aanwezig zijn? Meldt u zich dan aan via het aanmeldingsformulier op de website van het Dagblad van het Noorden. De lezing is in eerste plaats toegankelijk voor abonnees van het Dagblad van het Noorden. Bent u geen abonnee? Dan komt u op de wachtlijst en ontvangt u bericht zodra er een plek voor u beschikbaar is.
De Publieksacademie voor de Rechtspraak
Met laagdrempelige lezingen komt de Publieksacademie voor de Rechtspraak tegemoet aan de grote belangstelling voor de rechtspraak. Deskundigen zoals rechters, officieren van justitie en hoogleraren vertellen over thema's in het recht waar veel mensen mee te maken krijgen.
De Publieksacademie voor de Rechtspraak is een samenwerking tussen de Rechtbank Noord-Nederland, de Faculteit Rechtsgeleerdheid van de Rijksuniversiteit Groningen, het Openbaar Ministerie/Arrondissementsparket Noord-Nederland en het Dagblad van het Noorden. De lezingen zijn geschikt voor een breed publiek. Kennis over het recht is niet nodig om te lezingen te kunnen volgen.