Corrie Hoogerland
The cacophony of 'Empty Talk' (κενοφωνία) and 'Newspeak' (καινοφωνία)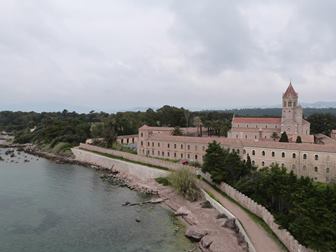 Vincent of Lérins, his views on the tradition and exegesis of 1 Timothy 6:20, in his role as a Gallo-Roman aristocratic cleric
Vincent (c. 380-450 AD), who lived on the southern Gallic island of Lérins in the first half of the fifth century, is still somewhat famous today for his adage he wrote at the beginning of his Commonitorium ("Memory Aid"), and which reads as follows: Likewise in the Catholic Church in particular all possible care must be taken that we hold that faith which has been believed everywhere, always, and by all.
In addition to Vincent's adage, scholarly literature focuses on two other aspects in particular, namely a) Vincent's relationship to Augustine and b) his view of the Trinity and, within it, Christology. The former aspect has in fact been the subject of debate since the seventeenth century, when it was argued that Vincent, with his view of the doctrine of grace, turned against Augustine and should therefore be called a "semi-pelagian" (so G.J. Vossius). Although this view of Vincent is less and less adhered to today, some nevertheless still relate him to the so-called anachronistic "semi-pelagianism". The second aspect, Vincent's view of the Trinity, on the other hand, is quite rightly receiving increasing attention today. After all, he devoted a substantial part of his Commonitorium and, in fact, his entire Excerpta to describing the dogma of the Trinity and to opposing Nestorius bishop at Constantinople (428-431).
Against the background of these current theological discussions, Vincent's adage is also easier to understand. Because the aspects already mentioned, Vincent's adage, relationship to Augustine, and view of the Trinity, are interrelated, I approach Vincent and his writings in a new way in this book. I am guided by the following questions: a) how exactly should we interpret Vincent's adage? b) what current problems did he himself face? c) what role did he see for the vision of the church fathers in discussions about the Trinity? These questions will be addressed in chapters 1 and 2, where attention will also be paid to his biography.
In my effort to arrive at a more complete picture of Vincent I also take into account another, hitherto underexposed, aspect, namely his identity as a Roman which seems to be closely linked to his Gallo-aristocratic origins. I distinguish two mentalities in Vincent, namely a Christian and a traditional-Roman one. This aspect will be addressed in Chapter 3 as a necessary complement to the previously incomplete picture of Vincent. These two mentalities will then be related to his profound exegesis of 1 Timothy 6:20: depositum custodi devitans profanas vocum novitates (guard what has been deposited with you, while avoiding profane new assertions) which provides an outstanding example of the interaction between Vincent's Christian and Roman mentalities. His exegesis, directed against innovations, is in my view not in line with Paul's intention with this passage. Indeed, Paul applies it in an anti-sophistic discourse directed against empty talk (κενοφωνία, kenophōnia), as I will argue in Chapter 4. It is striking that the Greek term κενοφωνία in the available Latin manuscripts is almost without exception translated as vocum novitates, as if it said καινοφωνία (newspeak, kainophōnia). The differences between the Greek and Latin manuscript tradition and extra-Biblical writings are discussed in detail in Chapter 5. This "cacophony of κενοφωνία and καινοφωνία" affected Vincent's view of innovations. Therefore, in Chapter 6, I sketch an innovative picture of Vincent and argue that Vincent is more 'Roman' than he appears at first glance. I argue for a re-reading of his writings in which he is considered a Gallo-Roman aristocratic cleric. Vincent, with his sense of responsibility, helped the church take position in discussions about the Trinity and Christology, and therefore I consider him one of the great figures of fifth-century Western church history.
Contact Corrie Hoogerland
| | |
| --- | --- |
| Last modified: | 10 October 2023 4.00 p.m. |