Otto Samuel Knottnerus
The land of Canaan bordering the North Sea – Exploring the history of mentalities in a (former) wetland civilization
The Wadden Sea – a major natural World Heritage Site on the southern shores of the North Sea – is bordered by an extensive series of fertile coastal marshes, which stand out because of their distinctive cultural heritage. Major parts of this heritage are considered to be Frisian.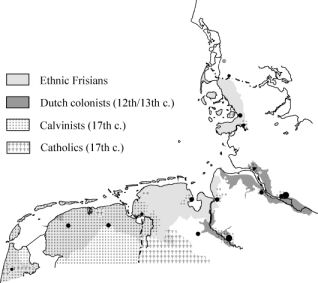 The coastal marshlands covers an area of about 10.000 km2, stretching about 500 km from Den Helder (The Netherlands) to Blåvandshuk north of Esbjerg (Denmark), and reaching upstream along the Elbe and Weser Rivers to the cities of Hamburg and Bremen (Germany). The area has been relatively densely populated since prehistoric times as compared to its hinterland; its inhabitants were rather wealthy and oriented to international commerce and urban culture.
Our studies focus on cultural, social and religious developments since end of the Middle Ages. They start from the assumption of a common history, transcending national boundaries, its outlines being based on a shared cultural heritage and comparable ecological, agricultural and geopolitical dynamics. Shared traits and parallel developments are studied in order to explain converging and diverging tendencies within the area's cultural heritage, especially between largely Calvinist districts in the West and Lutheran districts to the East.
The first part of the book deals with the entire area and its long-term history. Here the author draws on a stratified model of explanation, focussing on the interaction between environmental conditions, socio-political arrangements and religio-cultural patterns. The remaining chapters aim at specific subregions, in order to identify specific factors causing divergent tendencies within the area. Part two deals with the Early Modern Age, especially the impact of increasing exchange between rural and urban areas during the Renaissance end the Reformation. Part three concentrates on the late 18th, 19th and early 20th centuries, when successive phases of rural modernization had a profound impact on social structures and cultural values, eventually leading to the ongoing dissolution of the area's common heritage.
All studies are characterized by a transdisciplinary approach, not only reflecting the author's indebtedness to divergent disciplines such as historical anthropology, sociology and geography, cultural history as well as folklore studies, but also his involvement in public discussions concerning the cultural heritage of the Wadden Sea Area. It can be read as a plea for an integrated history, transcending the limitations of evolutionary theories and post-structuralist critique, and leading to a revaluation of immanent explanation as against ahistorical transcendental models.
Promoter: prof. dr. Y.B. Kuiper
| | |
| --- | --- |
| Last modified: | 25 July 2023 12.05 p.m. |