Lisa Züfle
Meaningful Foods. Enacting the Divine at the Sri Jagannath Tempel in Puri, Odisha.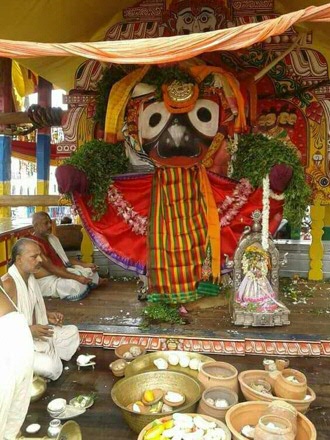 This research is concerned with the central role divine foods (mahaprasad) play in the maintenance, continuity and expansion of one of India's largest Hindu pilgrimage sites, the Jagannatha Temple in Orissa. In the East Indian temple city of Puri, almost all life and economy revolve around this central religious institution. As the largest employer, spiritual space and dwelling place of the gods, as well as the main consumer of food, it is the linchpin of everyday life in Puri. Several times a day a series of dishes are produced for the gods within an elaborate ritual production process, distributed to the temple community and sold to thousands of pilgrims and visitors as the place's main attraction on the temple market. Thus, my thesis gives a systematic overview of the production, distribution and use of this central religious resource. The aim is to investigate the way how the value of mahaprasad is created and how the divinity and purity of Jagannath is enacted through the engagement with the medium within a specific ritual corpus.
By illustrating the performance of all these significant actions, most importantly through the means of staged secrecy, it is shown how mahaprasad is established as the embodiment of the divine thereby making Jagannaths' grace tangible.
Thus, food becomes an important resource only through various meaningful practices, while it is produced, distributed and consumed within a specific set of rules and technics. In addition to the topic of how profane food is actually transformed into divine food, this work aims to show how this spiritual quality on the one hand is used as a ritual commodity sold to pilgrims and devotees in a bazaar and on the other hand how it is formalized as a unique feature to illustrate the importance of the local "Jagannath culture" or "Jagannath consciousness".
contact Lisa Züfle
| | |
| --- | --- |
| Laatst gewijzigd: | 25 juli 2023 12:06 |