Gerrit Krol Award 2021
The Language Centre and the Faculty of Arts of the University of Groningen have established the Gerrit Krol Award in 2019 in order to pay structural attention to Dutch as an academic language. The second edition has the theme 'scenarios for the future'.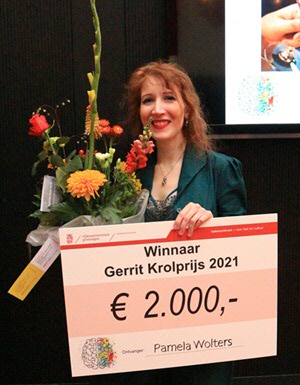 Pamela Wolters wins 2021 Gerrit Krol Award
Pamela Wolters has won the 2021 Gerrit Krol Award! In her essay 'Cad a dhéanfaimid feasta gan adhmad?' (What would we do without trees?), the UG English Language and Literature student proves that she has an original and challenging future vision and knows how to word this in a text that sparkles with ingenuity. The theme 'scenarios for the future' is approached in this essay in a critical yet hopeful manner. The future is sketched out as a harmonious place, in which the unnatural urge to prune trees is pushed back creatively. The jury hailed the winning piece as 'a beautifully written, artfully structured literary essay', in which 'perspective is offered in the midst of despair'. The essay by Pamela Wolters has since been published on Tzum. The other nominees were Klaske Berger, Thomas van Essen, Danae Marchal, Sofie Renap and Eline Santema.
The award ceremony featured a guest speech by Koos Dijksterhuis, a writer and columnist for the newspaper Trouw, after which writer and jury member Louis Stiller read out the jury report and announced the winner. The radiant winner ended the ceremony by presenting her essay. As well as possessing a talent for writing, Pamela is also a singer. During the ceremony reception, she treated guests to a lovely Irish song. She's one to watch out for!
The Gerrit Krol Award was established by the UG Language Centre and Faculty of Arts in 2019. The essay prize honours Dutch as an academic language and offers a stage to fresh talent. Students from Dutch-speaking regions are invited to submit an essay, in Dutch, of a maximum of 2,000 words. An expert jury then decides which submissions are eligible for nomination, and then selects the winner. This year, the jury comprised Louis Stiller (writer), Ellen Krol (the daughter of Gerrit Krol) and Ronald Ohlsen (writer and Language Centre teacher).
Language Centre: develop your academic language skills
Want to improve your writing skills? The Language Centre is happy to help! Have a look at our academic skills portal or check out our course catalogu.
| | |
| --- | --- |
| Last modified: | 03 September 2021 11.09 a.m. |