Corrie Hoogerland
Vincentius of Lérins and his rhetorical works in the 5th-century patristic debate: how an anonymous monk became a rhetorical philologist in using the Bible and citing the Early Church Fathers.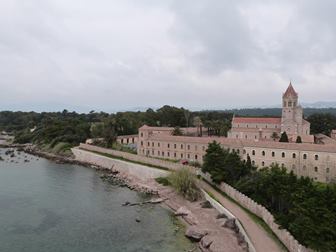 Vincentius of Lérins (ca.380-450 A.D.) called himself a Peregrinus. He wrote the Commonitorium and Excerpta as an anonymous monk. His qualities were an enormous knowledge about the issues of the trinity and of the incarnation of Christ, together with the corresponding heresies. He was also very interested in the Council of Ephesus (431), and the condemned Nestorian heresy. He combined this knowledge and interest with a magnificent rhetorical style; not as a 'hollow phrases'-producer but as an eloquent word artist.
As a Lérinan monk it was Vincentius' intention to be a reliable author, who laid down in writing the issues he had received from the trustworthy Fathers. He presented his most well-known work Commonitorium as a 'memory-support' in order to prevent from forgetfulness. In this book he described the way to protect the church against heresies: with the help of the Bible and citations of the Fathers. Very interesting is his use and exegesis of 1 Tim.6,20 and thedepositum fidei which is explained there as an old and reliable pledge preserved from the Fathers, against the novelties of the heretics. His other work Excerpta is a collation of citations of Augustine. And maybe there are other unknown works left. Most likely he is also the writer, or at least an influential source of the so-called Quicunque (in the Reformed Churches in the Netherlands incorrectly called 'Geloofsbelijdenis van Athanasius', i.e. Confession of Athanasius).
The purpose of my research is to contribute to a clearer insight into the rhetorical forms and skills being used in the fifth-century patristic debate. And in particular into the international connections between the Lerinian monastery and the Ephesian Council and in between an anonymous monk – as Vincentius used to present himself. Vincentius' life and work seemed to us as one great moving circle: his rhetorical definition about the church is also his promotion-weapon for his own work. Unification as standard demands a pastoral, unifying document for all believers, everywhere and always. Therefore the beginning of the Commonitorium has a very strong rhetorical relevance: interroga patres – ask your fathers!
Contact Corrie Hoogerland
| | |
| --- | --- |
| Last modified: | 20 November 2019 7.28 p.m. |