Kholoud Al-Ajarma
Mecca in Morocco: Negotiating the Meanings of Hajj in Everyday Life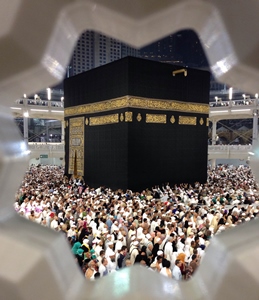 The theme of this PhD project concerns the ways in which Moroccan views on Hajj are negotiated in everyday social relations and micro-practices. In Morocco, being a 'Hajji(a)' (someone who has performed Hajj) comes with high religious status and until recently was generally associated with older people. Approaching pilgrimage from the perspective of lived religion', this research is informed by the overarching question: How do references to religiosity, social identification and self-identity in personal pilgrimage accounts reflect the ways in which the habitus of hajjis (pilgrims) is informed by various cultural discourses simultaneously?
I seek to answer this question by tracing the Moroccan experience of hajj and stories of pilgrims who have been to Mecca. I explore how a subject's religious agency is informed by her or his location within a group and by cultural discourses. Through ethnographic description, the everyday life of pilgrims living in Morocco, their struggles, daily practices, desires and motivations, are presented within a framework of understanding the process of crafting a religious self within group structures. Following the interpretive approach in anthropology, the study draws on the analytical literature on subjectivity, identity formation and the body.
Through this project I analyze how Umra and Hajj are perceived and prioritized in relation to each other and to competing pursuits. Hajj as 'sensational form' is predominantly studied by analyzing stories about personal Hajj-experiences. To contextualize interpretations of these Hajj experiences in terms of conceptions of the 'sacred/mundane' and 'Islamic/un-Islamic' a specific focus in this sub-project concerns shifts in the 'religious economy' that can be perceived in Morocco. Until recently, social hierarchy was strongly connected to the possession of baraka (empowering blessings). Exemplifying how various cultural discourses may intertwine, Moroccan views on religious status are currently undergoing change under the influence of individualization processes that accompany rising educational levels. Rather than a form of piety related to baraka inherited or obtained by visiting Mecca or shrines of local 'saints', it is increasingly personal piety developed through continual religious self-disciplining which earns a person religious prestige.
Contact Kholoud Al- Ajarma
| | |
| --- | --- |
| Last modified: | 20 November 2019 7.28 p.m. |