Jeannette Kreijkes–van Esch
The Paradoxical Reception of Ancient Texts in the Early Modern Period: Chrysostom's Influence on the Humanist and Reformer Calvin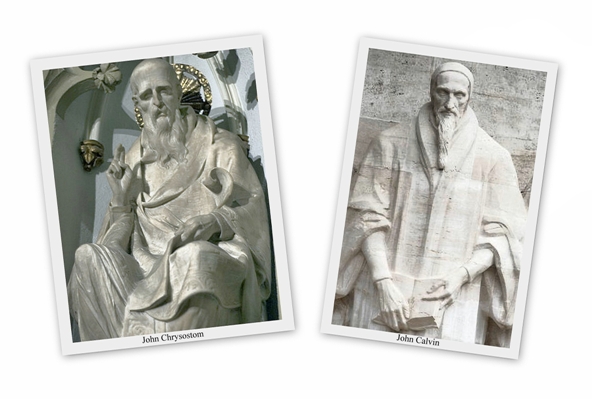 As a Reformer it was John Calvin's (1509-1564) intention to restore the state of the original Christian Church (until the 5th century). He considered the Early Church to be 'primitive and purer' compared to the later corrupt Church of his day. In his time the Latin translation of Scripture was used and it was primarily known by the clergy. Calvin was convinced of the necessity of understanding the Bible by common people. The patristic literature could be helpful to make Scripture accessible for ordinary people. So, it was not only the Humanist motto Ad fontes! – back to the sources – which moved him, but even more, the fact that knowledge of Scripture was a matter of eternal salvation.
In his writings Calvin refers to the Church Fathers relatively often, and especially to John Chrysostom (ca. 349-407). Chrysostom, whose name means 'Golden mouth', had been educated in classical rhetoric at Antioch, in the school of Libanius, one of the most noted pagan rhetoricians in his days. After he had become committed to Christianity, he studied theology at the School of Antioch, under Diodorus of Tarsus.
This study covers the exegetical relationship between Calvin and Chrysostom. The exegetical relationship between the two Johns appears not only from the fact that Chrysostom is the most cited Church Father in Calvin's New Testament commentaries, but also from a substantial fragment of the Praefatio in Chrysostomi Homilias (the 'Praefatio'). Calvin wrote this unfinished and unpublished Latin preface to his intended translation of Chrysostom's sermons into the vernacular. In the Praefatio Calvin mentioned - although he admitted that Chrysostom was not as sound as he ought to have been in the doctrines of election, free will and human virtue - that he appreciated Chrysostom for his commitment to the genuine, simple sense of Scripture.
Remarkably, despite Calvin's preference for the straightforward meaning of the text, he occasionally but infrequently, makes use of allegory, just like Chrysostom does. This research intends to explain this paradox on the level of biblical interpretation by analyzing allegories and typologies in the works of Calvin and Chrysostom by focusing on the role Chrysostom played in Calvin's commentaries.
The purpose of this research is to contribute to a clearer insight into the early modern reception of ancient texts and in particular into biblical interpretation in both the early church and Reformation periods.
First supervisor: Prof. Dr. H. van den Belt
Second supervisor: Prof. Dr. J. Leemans
| | |
| --- | --- |
| Last modified: | 20 November 2019 7.26 p.m. |