Annelies Abelmann
Roman-Catholic Emancipation in the Rhine-Meuse Region and the Interior decoration of Churches during the Lifetime of Sculptor Friedrich Wilhelm Mengelberg (1837-1919)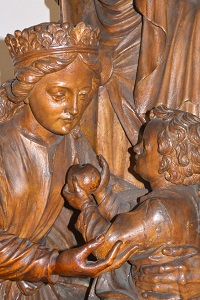 This PhD-research focuses on the life and works of Friedrich Wilhelm Mengelberg in the Rhine-Meuse region in the context of the social and political developments within the Roman-Catholic church. The historistic restyling of the church architecture and interior decoration on the iconography and iconology will be in the centre of my study.
Wilhelm (Cologne 1837-1919 Utrecht) was brought up as an Evangelical but became Catholic at the age of 19 together with his older brother Philippe and younger brother Otto. Trained as an architect at the 'Mengelberg'sche Sontagschule für Bauleute' by his grandfather, his father and Friedrich (von) Schmidt and afterwards in the 'Kölner Bauhütte', he moved over to the profession of sculptor and became one of the leading artists in church decoration in the archbishoprics of Cologne and Utrecht.
Together with his two brothers and three sons, he managed two studios which produced an overwhelming amount of church art varying from high qualified artworks to minor objects fabricated in a nearly industrial way.
He moved very smoothly on the tides of the Catholic movement in the Rhine- Meuse region under the popes Pius IX, Leo XIII, Pius X and Benedictus XV adopting the neogothic style and the Marian devotion in his iconography and iconology, but also experimenting with the style of the School of Beuron in mural paintings.
Promotor: Prof. Todd Weir
Primary Supervisor: Dr Andrew Irving
| | |
| --- | --- |
| Laatst gewijzigd: | 20 november 2019 19:26 |