Rosalind Franklin Fellowships
The Faculty of Theology and Religious Studies of the University of Groningen (founded in 1614) is a leading European institution for the study of the relation between religion and culture. We are proud to be ranked as the best teaching and research centre for religion in The Netherlands. We are committed to highest standards in critical academic research, and we translate our research into stimulating and cutting-edge teaching programmes. We train students to be independent and critical observers of the place of religion in its cultural and historical context, and we prepare them for the job market.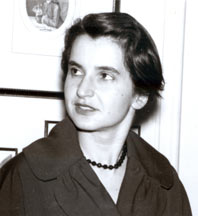 RFF position
We have one Tenure Track position for a talented female academic.
The Rosalind Franklin Fellows will work in the area of their choice and pursue their research at the research institute of Faculty of Theology and Religious Studies. Applicants with research that fits into the faculty profile and strengthen the strategic goals of the faculty are welcome, but the faculty aims to strengthen the research focus in psychology of religion and/or spiritual care.
The successful candidate will set up her or his own research project(s). Rosalind Franklin Fellows will be expected to attract external funding. Although the first years include a strong focus on research, fellows will also contribute to the (international) teaching programmes within the faculty.
General requirements
a PhD degree for preferably at least 3 years at reference date of 11/30/2014

exemplary research record demonstrated by publications in international top journals and/or in peer reviewed books

proof of independence and international recognition

experience in various working environments, preferably in different countries

successful in acquiring external funding for research projects

teaching experience or proven inclination for teaching for instance demonstrated by tutoring/mentoring individuals or small groups

demonstrable organizational qualities and communication skills

a well-founded and motivated application with an innovative research plan for the first five years and a challenging outlook for the future which takes into account the international research landscape in their field of specialization

must not have resided or carried out their main activity (work, studies, etc.) in the Netherlands for more than 12 months in the 3 years immediately prior to the reference date of 11/30/2014. Please, check

whether you are eligible to apply by doing the eligibility check on the webpage: Requirements/Eligibility criteria/General Requirements.

Here you will also find information about how to submit your application.
Additional criteria of the faculty:
a strong commitment to teaching

the capacity to play an active and leading role in the teaching and research of the faculty

a demonstrable interest in interdisciplinary cooperation

Further information
For information you can contact:
General requirements and application