Joep van de Geer
Improvement of multidisciplinary spiritual care in palliative care by training primary caregivers
How do we teach doctors and nurses to hear and see what is at stake existentially and spiritually for patients and their proxies who are confronted with life limiting disease(s) in treatment and care? And when they are trained by specialists on this dimension of care (their local hospital chaplains): does training improve their communication skills and competencies? And more important: will patients experience better care from their multidisciplinary team including attention to their spiritual and existential needs and better shared decision-making concerning their treatment?
Background
The development of modern palliative care challenges primary caregivers and medical institutions to react not only on the physical, psychological and social symptoms of dying patients and their proxies. The World Health Organisation definition of palliative care (PC) (1) includes responding to the spiritual problems and needs of patients and families confronted with a life threatening disease as a core component of PC. After intense theoretical discussion concerning the concept of spirituality and the spiritual dimension in modern healthcare, a growing number of publications shows consensus on defining spirituality and required actions of primary caregivers in PC (2,3) . The recent pan-European survey on research priorities by the European Association for Palliative Care shows as top three on spiritual care in PC the need to develop and evaluate 1. conversation models, 2. screening tools for identifying spiritual needs and 3. spiritual interventions. Other prevalent themes include research to improve staff education and investigate staff attitudes to spiritual care (4) .
The Dutch multidisciplinary guidelines for PC practitioners contain a unique multidisciplinary guideline on spiritual care (5), recently translated in English. Implementation of this guideline is just emerging, validated tools and educational programmes still lack.
Studydesign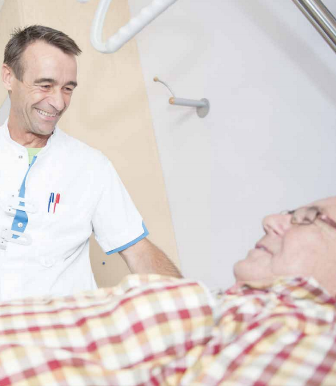 In a multicentre prospective action research study, in cooperation with the Medical Centre Leeuwarden, the content of a pilot education programme on spiritual care in PC for doctors and nurses is formulated based on literature review and expert opinion, and will be tested by local trained hospital chaplains in 10 Dutch teaching hospitals. The effects of this training on the competence of the primary caregivers will be measured as well as the physical, psychosocial and spiritual wellbeing of their patients before and after following the educational programme. Patients' spiritual needs and the perceived focus of caregivers on their spiritual needs, quest for meaning and existential questions will be measured and compared.

This study is registered also at the Dutch Trial Register: NTR4559
References
(1) World Health Organization. WHO Definition of Palliative Care. Available at: http://www.who.int/cancer/palliative/definition/en/ . Accessed 04/15, 2013.
(2) Puchalski CM. Spirituality as en essential domain of palliative care: Caring for the whole person. Progress in Palliative Care 2012;20(2).
(3) Handzo G. Spiritual care for palliative patients. Curr Probl Cancer 2011 Nov-Dec;35(6):365-371.
(4) Selman L, Young T, Stirling I, Leget C, EAPC Spiritual Taskforce. Research priorities in spiritual care: Results of a pan-European survey by the EAPC Spiritual Care Taskforce. 2012 2012 June 6-9.
(5) Leget C, Staps T, van de Geer J, Mur-Arnoldi C, Wulp M, Jochemsen H. Richtlijn Spirituele zorg. In: De Graeff A, van Bommel JMP, van Deijkck RHPD, Krol R, Oldenmenger WH, Vollaard EJ, editors. Palliatieve zorg, Richtlijnen voor de praktijk. Utrecht: Vereniging van Integrale Kankercentra VIKC; 2010. p. 637-662.
| | |
| --- | --- |
| Last modified: | 08 January 2018 3.12 p.m. |