Jan Adriaan Schlebusch
The Anti-revolutionary Revolutionary: Systematic Apostasy and Societal Decline with Groen Van Prinsterer
This project focuses on Guillaume Groen Van Prinsterer's (1801-1876) reflection, both as a Christian politician and historian, on his own time - the aftermath of the enlightenment - as characterized by a continuation of an epistemological shift away from the authority of tradition and the transcendent in favor of the sensational, rational and empirical. Groen as political philosopher acts in the broader context of the reactionary counter-enlightenment or counter-revolutionary movements, although he distinguishes his anti-revolutionary position as eclectic. Nonetheless, he reacts to the aforementioned epistemological shift as he sees it implicated in the radical socio-political and socio-religious changes characteristic of his time. He counters what he calls the "revolutionary spirit", which he regards as negatively impacting Dutch and European society during his time by proposing the "Christian-Historical" position as an epistemological defense of particularly traditional and revelatory authority, which with Groen is accompanied with a reflection on society and its historical development in light of the former, and is followed by political action.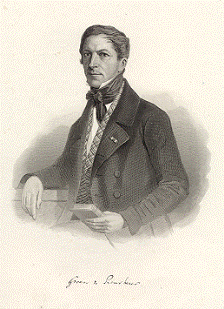 A conceptual analysis of Ongeloof en Revolutie ('Unbelief and Revolution') as the opus magnum of Groen as antirevolutionary Political Philosopher within its socio-cultural and socio-political context, with the central identifiable theme being the manifestation of systematic apostasy (as an epistemological shift) in terms of societal decline (as the inevitable socio-political implications of the epistemological shift), can contribute to existing perspectives on the ideological character of the Lectures within its broader historical context.
Drawing from the Christian-Historicism of Groen, in terms of both his political writings and actions, in order to engage in contemporary discussions on religion, politics and society is a further aim of this project. Consequently it has the potential to contribute to the introduction of a valuable supplement to contemporary predominant socio-political paradigms for a dynamic context of societal challenges.
Contact Jan Adriaan Schlebusch
Promotor: Prof.dr. M.P.A. de Baar
| | |
| --- | --- |
| Last modified: | 30 March 2017 2.57 p.m. |