Jaco van der Knijff
"Other hymns". A research of the origin, development and use of the so called collection "Eenige Gezangen" in the Dutch Reformed Protestantism in the period 1566-1773.
In 1566, the preacher Petrus Dathenus, one of the leading figures of the Reformation in the Netherlands, published in Heidelberg a prayer book: "De psalmen Davids, ende ander lofsanghen , uut den Francoyschen dichte in Nederlandschen overghesett, doer Petrum Dathenum. Metgaeders den christelicken catechismo, ceremonien ende ghebeden". With this prayer book, Dathenus wanted to serve the young congregations in the Netherlands that had chosen the side of Calvinistic Reformation of Calvin (Geneva).
Dathenus had translated (quite literally) all the 150 Psalms, created by the poets Clément Marot and Théodore de Bèze, from the French Genevan Psalter (1562 and further). Behind the psalms, Dathenus added seven "other hymns" ("ander lofsanghen"): a song about the Ten Commandments, the three cantica of Zacharias, Mary and Simeon, the Credo, the Lord's Prayer and a prayer before the sermon.
Already in 1566, at least five editions of the psalm book were published, in different places. And in the subsequent years, a very large number of the prayer book appeared. Soon after 1566, behind the seven hymns other hymns appeared (often at the initiative of the printers): a second song about the credo, prayers before and after the meal, a translation of the hymn "Christe qui lux es et dies", a song about Psalm 151 in the Septuagint ("Eigen Geschrift Davids") and (much later) a morning song.
From different sources, we know that some of these songs were very popular, specially the prayer before the sermon ("Een kort Ghebedt voor de Predicatie"), which was usually sung during the services of the Reformed Church of the Netherlands. Meanwhile, the official synods of the Reformed Church in the Netherlands (the last one in 1618-1619) argued that only the first six songs of the collection should be sung in the service. About the prayer before the sermon, the local churches had to make their own choice.
The psalms of Dathenus were not of the best literary quality. So, many preachers and poets after him tried to give an alternative for this official psalm book of the Reformed Church. However, it took until 1773 before a new psalm book (selected from three another rhymings) was made that took the place of Dathenus' psalms. After the 150 psalms, twelve hymns were included and also Psalm 151 from the Septuagint was again translated. So, the collection of the twelve hymns received an official status.
In this research, I describe where the seven songs of 1566 come from, how the collection grew to the number of twelve and what we know about the use in the church and at home.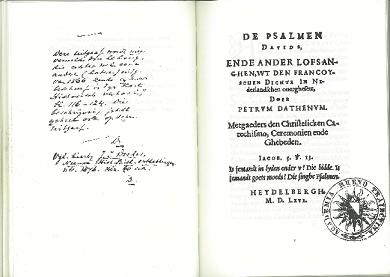 | | |
| --- | --- |
| Last modified: | 08 January 2019 10.21 a.m. |