Open Day Theology and Religious Studies
| | |
| --- | --- |
| When: | Sa 08-04-2017 10:00 - 16:00 |
| Where: | Faculty of Theology and Religious Studies, Oude Boteringestraat 38, Groningen |
Which study programme best fits your interests and plans for the future? What city would you like to live in for at least three years? Which Master programme can you follow after the Bachelor of your choice? And what career opportunities would you have after completing the programme? The Open Day of the University of Groningen can help you get answers to these questions.
Are you interested in Anthropology, Sociology, History, Political Sciences, Psychology, cultural heritage and old languages? Than you might consider the Bachelor's degree programmes Theology and Religious Studies, because in these programmes, you will learn to use all these disciplines in researching religion.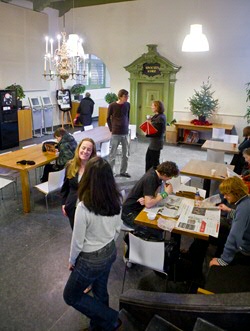 The bachelor's programme in Religious Studies is taught in English and Dutch. Between 14.30 and 16.00 hrs, there will be an information round in English for Religious Studies.
The Bachelor's programme in Theology is mainly taught in Dutch, therefore, the information on the Open Day will be in Dutch.
For whom is the Open Day intended?
The Open Day is meant for prospective students who to a large extent know what kind of study programme they want to do, and who would like to receive more specific information on one or more programmes. The presentations will take place at various locations. Students will therefore be able to visit a total of four different programmes.
More information and registration