Filmmiddag Eve and the Fire Horse
Wanneer:

do

07-04-2016 12:00 - 17:00
Waar:

Marie Lokezaal, Harmoniegebouw, Oude Kijk in 't Jatstraat 26
Op donderdag 7 april 2016 organiseert het Alfasteunpunt van de RUG i.s.m. de opleidingen Religiewetenschappen en Kunsten, Cultuur en Media een filmmiddag over Film, Religie en Cultuur voor VWO-scholieren. Deze middag bestaat uit twee colleges die aansluiten bij de prijswinnende film 'Eve and the Fire Horse'.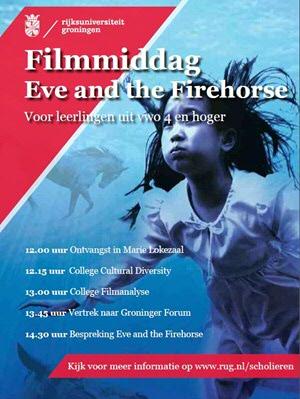 Eve is een negenjarig meisje dat opgroeit als dochter van Boeddhistisch, Chinese immigranten in Vancouver. Bij Eve thuis staat het traditionele Chinese geloof centraal, maar in haar omgeving komt Eve in contact met het Katholicisme. In haar levendige fantasie combineert Eve de verschillende culturen en geloven: Boeddha en Jezus dansen als vrienden door de woonkamer en goden en godinnen komen tot leven. Hoe reageert haar omgeving hier op? Bekijk hieronder alvast de trailer!

De sprekers
Dr. Stefania Travagnin, directeur van het Centre for the Study of Religion and Culture in Asia , geeft een college over 'cultural diversity'. Vanuit haar expertise op het gebied van Boeddhisme en religie en maatschappij in het moderne China zal zij reflecteren op de ontmoeting tussen verschillende culturen en religies die centraal staat in 'Eve and the Fire Horse'. Dit college geeft ze in het Engels.
Tom Slootweg, promovendus bij Kunsten Cultuur en Media, geeft een inleidend college in filmanalyse toegespitst op 'Eve and the Fire Horse'. Daarnaast zal hij de discussie aangaan met de leerlingen over de film binnen een wetenschappelijke context.
Het programma
12.00 uur: ontvangst in Marie Lokezaal
12.15 uur: college door Stefania Travagnin - College Cultural Diversity
13.00 uur: college door Tom Slootweg- College Filmanalyse
13.45 uur: vertrek naar Groninger Forum
14.30 uur: bespreken 'Eve and the Fire Horse' in Groninger Forum
17.00 uur: einde