The way of the force: duolezing Mathilde van Dijk en Tekla Slangen
Wanneer:

do

17-12-2015 18:45 - 23:00
Waar:

Pathé Groningen, Gedempte Zuiderdiep 78
Voorafgaand aan de vertoning van de nieuwe Star Wars film The Force Awakens in Pathé Groningen, zullen dr. Mathilde van Dijk en studente Tekla Slangen een lezing geven over religie en spiritualiteit in Star Wars: The Way of the Force. De lezing start om 19.00 uur en is bij de prijs van het toegangsbewijs voor de film inbegrepen.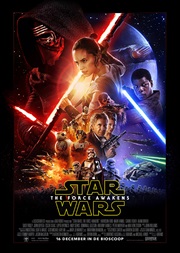 'The Force is what gives a Jedi his power. It's an energy field created by all living things. It surrounds us and penetrates us. It binds the galaxy together.'
(A new Hope, George Lucas 1977)
Zo introduceert de oude Jedi-ridder Obi Wan Kenobi de Kracht bij zijn toekomstige leerling Luke Skywalker, aan het begin van de eerste film uit de Star Wars-reeks. Zijn woorden zijn de aanzet voor de ontwikkeling van een specifieke vorm van spiritualiteit, niet alleen in de films, maar ook op talloze fansites. De Weg van de Kracht en het zogenoemde jediisme zijn daar de meest besproken onderwerpen. Het opmerkelijke is dat het niet bij woorden blijft: sommige fans volgen de Weg van de Kracht en noemen zich jedis. Wat betekent dat voor hen? Is het jediisme te beschouwen als een nieuwe religie? Hoe ziet die er dan uit? Wat maakt, in een geseculariseerde samenleving, het jediisme aantrekkelijk?
Dr. Mathilde van Dijk is universitair docent Cultuurgeschiedenis van het christendom aan de Faculteit Godgeleerdheid en Godsdienstwetenschap, RUG, Groningen. Haar specialisme in middeleeuwse geschiedenis leidde haar onder meer tot onderzoek van 'middeleeuwse' en 'religieuze' elementen in hedendaagse fantasy en science fiction.
Tekla Slangen BA studeert Religiewetenschappen aan dezelfde faculteit. Zij volgt de master track Religion and the Public Domain. Op het ogenblik werkt ze aan haar masterscriptie Star Wars Fans and Religion. Hierin onderzoekt ze het gedachtegoed, het gedrag en de ervaringen van Star Wars-fans met betrekking tot de Force en het jediisme.
Programma
18.45: inloop
19.00: duolezing
19.40: pauze
19.55: start film
Locatie
Pathé Groningen
Gedempte Zuiderdiep 78, Groningen