Studiedag Gender en Religie 2015: Leiderschap, spiritualiteit en gender - ter herdenking van Teresa van Avila (1515-1582)
Wanneer:

vr

06-03-2015 13:00 - 17:00
Waar:

Zittingzaal, Oude Boteringestraat 38, Groningen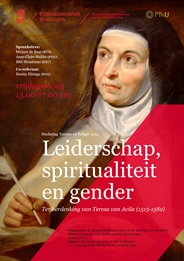 In 2015 is het vijfhonderd jaar geleden dat de befaamde Spaanse mystica en geestelijk leidster Teresa van Avila werd geboren. In haar eigen tijd had ze een grote impact en dat is zo gebleven tot in deze tijd. Zo onderzocht de feministische Franse filosofe Simone de Beauvoir haar als voorbeeld voor feministische vrouwen op zoek naar autonomie, terwijl – très etonnés de se trouver ensemble – Paus Paulus VI haar in 1974 tot kerklerares benoemde, als een van de drie vrouwen die deze eer te beurt is gevallen.
Op deze studiedag bestuderen we naar Teresa's leiderschapspraktijk in dialoog met hedendaagse theorieën en praktijken van leiderschap en spiritualiteit. Wat is de relatie van haar functioneren als leider met haar spiritualiteit? In hoeverre is er sprake van een typisch vrouwelijke manier van leidinggeven? Welke technieken gebruikte ze? Hoe was haar verhouding met andere leiders in haar tijd? In hoeverre is zij wat dit betreft een bron van inspiratie voor mannelijke en vrouwelijke leiders in de eenentwintigste eeuw?
Spreeksters
Mirjam de Baar is hoogleraar Cultuurgeschiedenis van het christendom aan de Rijksuniversiteit Groningen. Zij is expert op het gebied van genderen religie in de vroegmoderne tijd. In dit verband onderzoekt ze vrouwelijke religieuze leiders. Zij publiceerde onder meer 'Ik moet spreken'. Het spiritueel leiderschap van Antoinette Bourignon (1616-1680) (Zutphen: Walburg Pers 2004).
Anne-Claire Mulder is universitair docent vrouwen- en genderstudies aan de Protestantse Theologische Universiteit, Afdeling Groningen. Zij werkt aan een project over leiderschap, autoriteit en gender. Een en ander vloeit voort uit haar eerdere werk over gender en religieuze subjectiviteit. Zij publiceerde onder meer: Divine flesh, embodied word : 'incarnation' as a hermeneutical key to a feminist theologian's reading of Luce Irigaray's work (Amsterdam: Vossiuspers 2006).
Bibi Straatman is docent cultural studies en onderzoeksmethodologie aan de Hogeschool voor de Kunsten in Utrecht. In haar boek Pal impsest. Langzaam denken, over actorschap en revolutie (Utrecht 2012) geeft ze onder meer een introductie op het werk van Teresa van Avila. Hierbij besteedt ze vooral aandacht aan Teresa als inspiratiebron voor maatschappijverandering vandaag.
Co-referaat
Hoogleraar Hanny Elzinga is de Dean van het Honours College van de Rijksuniversiteit Groningen. Als zodanig heeft ze praktijkervaring als leider. Het programma voor Masterstudenten heeft leiderschap als thema onder te titel: Leiderschap: maak het verschil!
Inlichtingen
Dr. Mathilde van Dijk, mathilde.van.dijk@rug.nl
Opgave
voor 2 maart bij receptie.ggw@rug.nl