The Star of Bethlehem: Historical and Astronomical Perspectives - A Two-Day Multi-Disciplinary Colloquium
When:

Th

23-10-2014 09:00 - 18:30
Where:

University of Groningen
University of Groningen, October 23rd-24th, 2014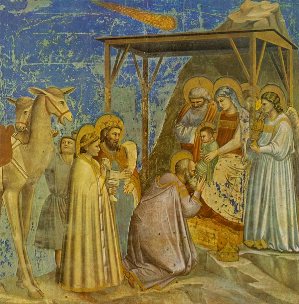 "The Star of Bethlehem" (1999) by Michael Molnar, formerly astronomer at Rutgers University, has set a scholarly agenda which still needs to be assessed and compared with other theories. This will be undertaken in a unique colloquium, organised by the Institutes of Astronomy and New Testament Studies at the University of Groningen, which will bring together all relevant experts.
Molnar's theory is both astronomical and historical, in the sense that he combines modern astronomical tools to detect what the heaven looked like around the birth of Jesus, but uses Hellenistic-Roman astrology from the time of Jesus to interpret the relevant events. Molnar's assumption is that the Magi, the "Wise Men" from the East in Matthew's birth narrative of Jesus, shared the dominant astrological world-view of their time.
This multidisciplinary colloquium brings together all the relevant international experts for an open, non-polemical, scholarly discussion. The Colloquium has been structured around five sessions, each dealing with a key aspect of The Star.
Registration
Registration and further information on the Conference's website at the website of the colloquium
Programme
Day 1 - Thursday 23 October
I. FROM KEPLER TO MOLNAR: HISTORY OF THE INTERPRETATION OF THE STAR
Moderators: Peter Barthel and George van Kooten (Groningen)
09:00-09:15 Welcome
09:15-09:50 Owen Gingerich (Harvard) - Kepler's "De vero anno" (1614)
09:50-10:25 Aaron Adair (Ohio) - Review of Molnar's and other theories
10:25-11:00 Bradley Schaefer (Louisiana) - Astronomical and historical evaluation of Molnar's answer
11:00-11:30 Coffee break
11:30-12:00 Session I - plenary discussion
II. THE STAR: WHEN, WHAT, AND HOW
Moderator: David Hughes (Sheffield)
12:00-12:35 Peter Barthel (Groningen) - The WHAT Question: Astronomical Phenomena
12:35-13:30 Lunch break
13:30-14:05 Rob van Gent (Utrecht) - The WHEN Question: Relevant Chronologies
14:05-14:40 Alexander Jones (New York) - The HOW Question: Astrology and exact sciences
14:40-15:10 Session II - plenary discussion
15:10-15:40 Tea break
III. ANCIENT NEAR-EASTERN ASTRONOMY & THE MAGI
Moderator: Teije de Jong (Amsterdam)
15:40-16:15 John Steele (New York) - Mesopotamian Astrological Geography & the Star of Bethlehem
16:15-16:50 Mathieu Ossendrijver (Berlin) - Babylonian Astrology & the Star of Bethlehem
16:50-17:25 Antonio Panaino (Bologna) - Pre-Islamic Iranian Astral Mythology, Astrology & the Star of Bethlehem
17:25-18:00 Ab de Jong (Leiden) - The Magi: Hellenized Astrologers
18:00-18:30 Session III - plenary discussion

Day 2 - Friday 24 October
IV. ASTROLOGY AND THE GRAECO-ROMAN WORLD: PAGAN, JEWISH & CHRISTIAN PERSPECTIVES
Moderator: Willem Drees (Leiden/Tilburg)
09:00-09:05 Announcements
09:05-09:40 Roger Beck (Toronto) - Graeco-Roman Astrologers & the Magi and Mithraism (paper read in absence)
09:40-10:15 Stephan Heilen (Osnabruck) - Relevant Greco-Roman Astrology, and Molnar's reference to Aries
10:15-10:50 Jan-Willem van Henten (Amsterdam) - Jewish and Roman expectations of a world-ruler from Judea
10:50-11:20 Coffee break.
11:20-11:55 Kocku von Stuckrad (Groningen) - Jews and Christians acting upon astrological beliefs
11:55-12:30 Mladen Popovic (Groningen) - Jewish astrology and Messianic expectations
12:30-13:30 Lunch break.
13:30-14:05 Annette Merz (Utrecht) - The Star of Bethlehem in the quests for the historical Jesus.
14:05-14:40 George van Kooten (Groningen) - An Analogous Case? Nero's Reemergence as World Leader from Jerusalem According to Suetonius' Astrologers
14:40-15:10 Session IV - plenary discussion
15:10-15:20 Short tea break
CONCLUDING STATEMENTS, INCLUDING DISCUSSION
15:20-16:20 David Hughes (Sheffield)
16:30 Bus departs for group excursion
There will be a welcome reception in the evening of Wednesday October 22, and the meeting will conclude with a group excursion to the Frisian town of Franeker.