Honorary Doctorate awarded to prof. José Casanova
| | |
| --- | --- |
| When: | Fr 13-06-2014 14:00 - 17:00 |
| Where: | Martinikerk Groningen |
On Friday 13 June, the University of Groningen will award ten honorary doctorates as part of its 400th anniversary celebrations. Honorary doctorates are presented to individuals who have made exceptional contributions to society, academia or politics. The University of Groningen recently awarded South African Archbishop Desmond Tutu an honorary doctorate for example.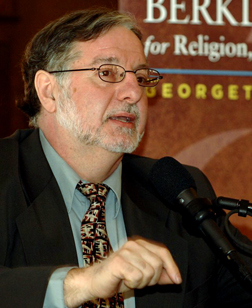 The honorary doctorate proposed by the Faculty of Theology & Religious Studies will be awarded to José Casanova (1951), Georgetown University (Washington, DC), Department of Sociology, Berkley Center for Religion, Peace & World Affairs. José Casanova is one of the world's most prominent scholars in the sociology of religion, with a special interest in the contemporary period and the relation between religion, secularism, and processes of globalization.
Because of this honorary doctorate, the Faculty of Theology and Religious Studies organises a special programme with professor Casanova with a public lecture on June 11th and a paneldiscussion on June 12th.
> Read his blogs on secularism, religion and the public sphere.
> More information on the ceremony