Innovation
The Engineering scientists who collaborate at the University of Groningen pioneer innovation and provide expertise in several areas:
Energy, with a focus on smart energy systems, electronics of materials, biomimetics, geothermal applications, biomaterial characterisation and authenticity, integration of biochemical engineering with low energy biomass refinery.
Electronics of materials for improved transport, light collection and emission, energy harvesting.
Mechanical engineering of materials, in particular Casimir forces and MEMS, in-situ mechanical microscopy, laser surface engineering and additive processing, nanoparticles, nano-composites and nano-porous materials, phase change materials for memory, size effects and multiscale plasticity, smart materials for actuation and sensing, contact mechanics and tribology, nano-indentation, diamond-like coatings.
Biobased materials, in particular biobased chemicals and performance materials for the development of techno-economically viable value chains including biomass selection and pre-treatment, conversion to low molecular weight building blocks, and for the development and optimization of advanced materials from biopolymers and other natural products.
Complex Systems with a focus on scalable methodologies for analysis and design/control; visualization to explore large complex systems; techniques to engineer systems-of-systems that combine resources and capabilities to create new systems.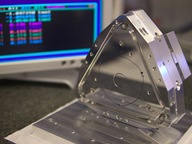 Advanced Instrumentation and Big data for large complex instruments, such as space-based telescopes, mechatronic systems or sensor networks, particularly with respect to reducing large data volumes to manageable size, developing techniques that make complex advanced instrumentation cheaper and more reliable, integrating new visualization and visual analytics methods within existing workflows; handling the multidisciplinary, multi-lifecycle and multi-organization aspects of systems through optimizing engineering processes.
Chemical, cellular and pharmaceutical engineering, to understand micro- and nanofluidic systems and processes and how they can be applied to biological, medical and pharmaceutical questions involving the study of cells or tissue.
| | |
| --- | --- |
| Last modified: | 31 January 2019 3.49 p.m. |