Viliana Milanova
BSc International Business, Bulgaria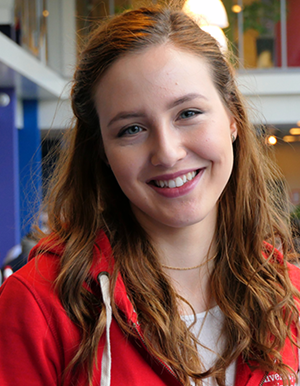 My name is Viliana Milanova, 20 years old, and I am currently in my second year of studying International Business . I moved to Groningen around a year and a half ago, right after graduation from high school.
Living here has been one of my best experiences so far. The city is vibrant with beautiful architecture, lots of bike and pretty canals, which you would of course expect from the Netherlands. The city is also packed with students, which creates a busy but also cozy atmosphere at the same time. Studying in this city of talents allows you to meet so many people with different cultural backgrounds and interests, experience the best student life & fun. Being part of the University of Groningen is a golden opportunity to grow, develop yourself and make friends for life.
Following a Business programme has always been something I wanted to do. Studying International Business at the University of Groningen proved to be the best decision I could've made. While as an international student I had my doubts and fears, I settled in very quickly and connected with plenty of people from my study.
Students here are passionate about their studies, and if not, teachers certainly create that atmosphere. The IB programme builds a very stable ground of knowledge using theoretical concepts but also applying real life business situations and problems. My favourite part is discussing business cases during tutorials, which allows you to search for every possible solution while collaborating with fellow students. The quality of education is certainly high and courses prove to be difficult sometimes, which really offers you to challenge yourself to be at your best level and push your limits. A great benefit of the programme is of course also the semester abroad. You can choose to go to great universities all over the world and this enriches your education experience even more.
While studying here is the main part of your daily life, there is so much more you can do. There are many study and student associations and sports clubs you can join that further enrich your student life and serve either as additional knowledge and expertise building next to your studies (e.g. EBF) or to meet even more people, make friends and have a lot of fun (e.g. Albertus).
Mail Viliana: prospectives.feb@rug.nl
| | |
| --- | --- |
| Laatst gewijzigd: | 29 juni 2017 09:35 |