Ondrej Molnar
MSc Marketing Intelligence, Slovakia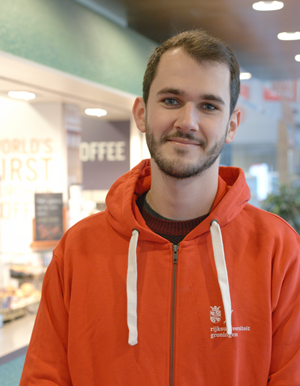 My name is Ondrej. I am originally from Slovakia, but I would describe myself as international, rather than just one-country man. I did a one-year exchange in Scotland during high school, then did my Bachelor of International Sales and Marketing Management in Denmark and now I am pursuing my MSc in Marketing Intelligence here in Groningen. And I love it!
I have chosen Groningen for its reputation of being the greatest student city in the Netherlands. I do not regret my decision, I really enjoy living here. Switching busses and car for a simple, old school, second hand, rusty bike and joining the crazy bike traffic; Having coffees and an occasional drink in the lively cafes and bars with my friends or random strangers – Dutch as well as International; In case of a good weather, chilling in the park… All these small things combine to one great experience that you will never regret having once you do it.
Studying at University of Groningen also offers great opportunities to get involved and develop personally as well as professionally. I became a member of MARUG Media team and joined the FEB Student Ambassadors team. I am also a proud member of ACLO, but I do not really work out, I have only been there four or five times. I guess I have fallen victim to the new years resolutions or a dream of actively working out. But most of us know how it goes…
In case you have any questions, you need some help, or you just want to know how things are around here, we Ambassadors are here to help you. Nothing is off limits when it comes to questions, we will do our best to provide you with all the information that might ease your decision.
Hopefully see you in Groningen!
Mail Ondrej: prospectives.feb@rug.nl
| | |
| --- | --- |
| Last modified: | 27 February 2018 2.00 p.m. |