Understanding Financial Crisis Through Accounting Models
From the beginning of the credit crisis and ensuing recession, it has become conventional wisdom that 'no one saw this coming'. In fact, many had seen it coming for years, says Dirk Bezemer. 'Many models missed the crisis not because the conditions were so unusual. They missed it by design. It is impossible to warn against a credit crisis and recession in a model world where credit does not exist. This is the world our policymakers have been living in.'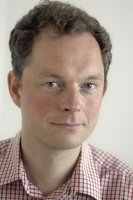 Bezemer, Associate Professor at the International Economics & Business department, is author of the paper Understanding Financial Crisis Through Accounting Models which is the next FEB Publication of the Month. He investigated in detail just who had predicted the crisis and how. 'I wanted to analyse why the crisis took institutions such as the OECD or the ECB by surprise and what the alternatives are.' Among the economists who did anticipate the crisis, the FEB researcher recognized a shared approach.
Flow-of-fund models
Bezemer: 'The majority of those economists who 'saw it coming' that I studied used a so-called 'flow-of-funds' approach. These models trace the economy's financial flows. This is different from the usual approach of 'general equilibrium' models, which often do not model the financial sector at all, or only in a highly stylized way. The assumption here is that the financial sector passively adapts to 'fundamentals' - whatever is happening in the real sector. So you lose nothing when you do not model finance. In a highly financialized economy, that is a very poor guide to reality. Models that exclude the growth of debt will miss the buildup of financial fragility in the economy.'
Fundamental question
The paper generated a lot of interest. Bezemer thinks this is because his paper touches on a fundamental question. 'Can the financial sector be incorporated in the general equilibrium model approach that is standard in macroeconomics? Some experts are optimistic and it is indeed possible to have in your model a box that channels savings to investments. But what makes banks special is that they create money instead of just passing it on. I do not, as yet, see how this fits into a general equilibrium structure.'
Bezemer: 'What does happen is that institutions cross check their projections using different approaches. General equilibrium scenarios are then complemented with flow-of-fund projections. This has been a fruitful development for some years now.'
Workshop
Building on this momentum, in June 2010 Bezemer convened, with professor Harry Garretsen, representatives from De Nederlandsche Bank, the European Central Bank, the CPB and the European Commission at a Groningen workshop to discuss if and how the financial sector can be incorporated into macro models. 'This was fascinating. Different institutions are doing very different things in adapting their models and their way of thinking. They all feel the need to respond to the public's perception that economists, and monetary and policy forecasting institutions in particular, completely missed the crisis.'
Paradigm change
Bezemer thinks these are exciting times to be an economist. The credit crisis has created a new openness to diversity in methodologies. Bezemer: 'That's good, because also flow-of-fund models are no silver bullet.In my paper I analyse how in the US after 2000, it was possible to use flow-of-fund analysis to foresee that a slowdown in private debt growth and recession were inevitable. But that was a unique situation – a large economy with unprecedented levels of debt. For a small open economy like the Netherlands where trade explains most of the variation in growth, it would have been less useful. Rather than a single paradigm, a diversity of approaches is needed. At the moment, that is missing in theoretical macroeconomics. That shouldn't surprise us: paradigm change, if it happens at all, is a slow process'.
More information
Understanding Financial Crisis Through Accounting Models. Accounting, Organizations and Society, 26: 676-688 (2010)
Full article: http://irs.ub.rug.nl/ppn/322495148
Contact: Dirk Bezemer
| | |
| --- | --- |
| Last modified: | 06 February 2014 10.07 a.m. |