Master Internship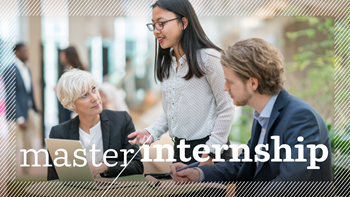 With the current job market for recent graduates being more competitive than ever, employers increasingly want to see work experience from the new graduates that they hire. Therefore, the Faculty of Economics and Business offers students of all MSc programmes (except for the Research Master) the possibility of doing a Master Internship (MI). Next to 15 ECTS on top of your Masters Degree, the MI offers you the opportunity to gain work experience, combine theory and practice and explore your career interests and skills.
---
Goal
Upon completion of this internship, you will be able to:
Reflect on knowledge and methods from your study field in relation to practical organisational problems

Reflect on organisational processes and structures in real life

Reflect on own learning process and determine development points

Communicate the project results effectively to the organisation
---
Main benefits for you
Gain relevant work experience

Develop your professional network

Combine theory and practice

Gain insight in your professional skills and ambitions

Increase your future employment prospects

Gain extra 15 ECTS on top of your MSc degree
---
Work based learning
The basis for the MI is work-based learning: you will learn on and from the job. This means that you will be supervised mainly by your company supervisor, because the colleagues at your internship company have the expertise and facilities to provide the opportunities and supervision for your work-based learning. Your Programme's Internship Coordinator will assess your internship proposal and your final portfolio. A nice possibility to get more guidance, is to browse through FEB alumni in the 'directory' of FEB Alumni Network's portal and find someone who matches your field and has stated that he/she is willing to mentor students. Connecting to these professionals can help you find your way in your internship as well as your career as a whole.
---
Testimonials
Jasmijn Staal was one of the first students participating in the FEB Master Internship, who found an internship at Bike New York , where she (among other tasks) owned a project/research on how to attract more international cyclists to Bike New York's events (addressing International cycling markets), created a social media strategy and manual, generated content for the different social media channels of Bike New York and was responsible for taking photos at events/classes.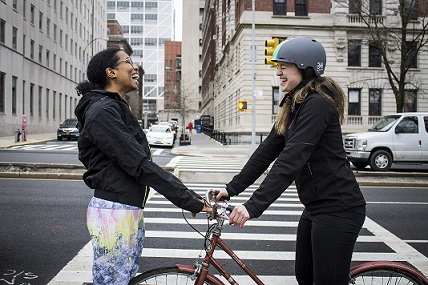 Jasmijn on the added value of the Master Internship:

'Through the Master Internship I have been able to experience working life and the business culture of New York City. I applied the knowledge I've gathered during my MSc Marketing to real life situations in a non-profit organization with relatively limited resources. This was a great and interesting challenge! And, to top it all off, I've lived my dream of calling New York City my home for a while.'
Interested in Jasmijns life in New York? Check out her Instagram account and Youtube channel!
---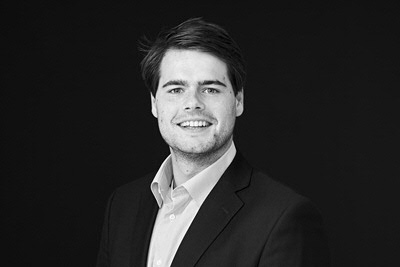 From April until July 2017, Maarten Vennix did an internship at Travelbird during his Master Technology and Operations Management. Maarten: 'I have developed a view on my role in the labour market and am now more confident in deciding which next step to take professionally. A Master Internship is a perfect way to explore what you want and what you're good at. I'd recommend it to anyone who doesn't have a specific occupation in mind.'
Tips from Maarten:
'Ask for feedback: everyone else is coming to work for their salary; your salary is your supervisor's feedback.

Be vocal about what you want to achieve during your internship: from developing specific skills to working with many disciplines to finding out what suits you best, as an intern you shouldn't be afraid to make this experience about you'.
---
How does it work?
In the Master Internship (MI), you do an internship related to your MSc programme directly after your first semester (check timeline and procedure below) and before writing your thesis . As mentioned before, this internship is all about work based learning, meaning you will get guidance from your company supervisor instead of a FEB lecturer. In the end you will have to deliver a reflective portfolio, also containing a feedback form your company supervisor filled out about you and your work. Your portfolio will be assessed by your Programme Internship Coordinator.
Engaging in a MI means postponing your thesis, therefore extending your programme to 1,5 years. The MI will be officially listed as an extra-curricular course on your MSc diploma. In your programme's Nestor Course you will find a manual and all other practical information.
---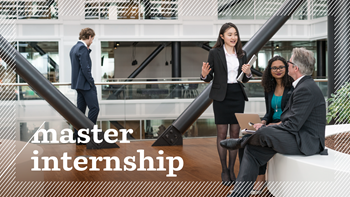 How to enroll?
The MI is available for Master students who start their programme in September or in February and will run in your second semester (doing your internship in the first semester of your MSc will not be allowed!). Whether or not this internship is an option for you depends on your personal situation and circumstances like study progress, study programme and the timing of compulsory courses in your final year. We encourage you to have a talk with your Programme Internship Coordinator about your planning and visit the information session on Master Internships your Programme will organise in the beginning of your programme.
If you thereupon decide to participate, enroll yourself in the group of interested students in the MI Nestor Course for your Programme. The registration deadline will be communicated on Nestor and in the information session that your Programme Internship coordinator organises. Subsequently, you will have to find an internship and decide with your company supervisor what your assignment will be. Next, upload your signed (by you and your company supervisor) internship proposal to the MI Nestor course no later than three weeks before you plan to start your internship, using the available format. When approved by your Programme Internship Coordinator, we will register you in Progress. You are ready to start!
As participating in the MI has consequences for your study planning and thesis, it's important to start planning timely!
---
Master Internship timeline for students
Visit the Master Internship information session and the programme specific Master Internship Course on the

Student Portal

as of the start of the degree programme. If after reviewing all the information on the Student Portal you have questions about your internship and course planning, contact your Programme Internship Coordinator.

Once you have determined that you would like to extend your MSc programme and do an internship in Semester 2, Register on time for the group of interested students in the Nestor MI course. The deadline is communicated on Nestor. All communication about deadlines and other important dates will be sent in that group only.


Find an Internship. You can find an internships utilising different channels, like GoinGlobal (if you enter GoinGlobal through Nestor it is free of charge!), LinkedIn, FEB's Centers of Expertise or through your own network. If you need help, visit this page or book an appointment with Nienke van den Berg for advice on how to find internships, via the Student Support Desk.

As soon as you have secured an internship, upload the completed and signed MI Proposal Form to the MI Nestor course for approval.

Do this as soon as you secured your internship,

but at least 3 weeks before your planned internship start. As soon as your Programme's Master Internship coordinator approves your proposal, we will take care of your registration in Progress.

Do your Master Internship in your second MSc semester, so between February and June (for students starting their Master programme in September) or between September and February (for students starting their Master programme in February). Take into account any compulsory or elective courses at FEB over this period.

Upon completion of your Master Internship upload your MI Portfolio by the end of June

(for students that start their Master programme in September) or by the end of January (for the students that start their Master programme in February)

onto the Student Portal.
---
Note to international students:
Since 2016, Dutch law allows non-EEA students to do an internship that is not a mandatory part of their degree programme. As compared to EEA students, non-EEA students pay a higher tuition fee if they extend their MSc programme, which is necessary due to the postponement of the thesis as a consequence of doing an MI. The Faculty of Economics and Business will financially compensate non-EEA students that successfully complete a Master Internship for this difference. FEB Career Services will help non-EU students with arranging the compensation when the time is there. See the Rules & Regulations document on Nestor for more information on this compensation.
---
More information
Each programme of the participating MSc programmes has a Programme Internship Coordinator, see the names below and contact them in case you have any questions that are not answered by the information in the MI Course on Nestor (available from September).
For procedural questions
Nienke van den Berg
FEB Career Services
careerservices.feb@rug.nl
+ 31 50 363 5529
As this is an official course, you can also find Master Internship in Ocasys, please click here!
| | |
| --- | --- |
| Last modified: | 16 September 2021 2.52 p.m. |